Justin Chon's directorial debut is now available for on-demand streaming from Vimeo.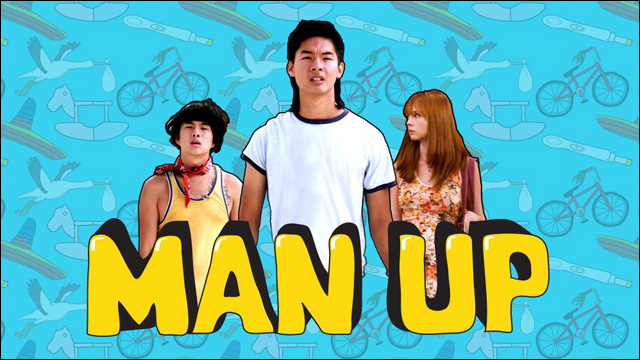 Man Up
is just about one of the stupidest movies I've ever seen... and I laughed my ass off. The indie feature comedy from actor-director Justin Chon, and starring Kevin Wu (YouTube's KevJumba) and Nichole Bloom, is now available for on demand streaming exclusively through
Vimeo
.
The buddy comedy, set and shot in Hawaii, follows 19-year-old slacker Martin, who has big plans for the summer... to do absolutely nothing. However, his plans are foiled when his girlfriend Madison drops a bomb on his carefree summer -- she is pregnant and refuses to see him until he grows up. With the help of his best friend, he embarks on a man-quest to figure what it means to be a dad and "man up."
Here's the trailer:
I saw
Man Up
a few months ago at CAAMFest, and Justin Chon's directorial debut is so idiotically funny, in the spirit of movies like
Dumb and Dumber
, I found myself letting my guard down and thoroughly enjoying the heck out of it. The cast also includes Galadriel Stineman, Samantha Futerman, Amy Hill and Michael Wu (Kev's dad). And bonus: an awesome score by Wendy Wang of The Sweet Hurt.
For more information, visit the
Man Up
website
. And if you want to rent/buy the movie,
do so here
.