Kentucky attorney gets a reprimand and sensitivity training for making derogatory comments.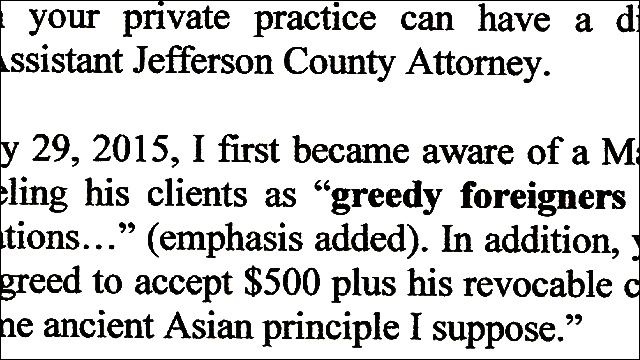 In Kentucky, the Louisville prosecutor who made racially insensitive and derogatory comments about the Asian American owners of a martial arts school, calling them
"greedy foreigners,"
has been reprimanded and ordered to attend sensitivity training by the Jefferson County Attorney's Office. Seriously, that's it?
Prosecutor punished for referring to Asian-American business owners as 'greedy foreigners'
Assistant County Attorney Karl Price, while working a civil case in his private practice, sent a letter to the attorney representing the owners of Hwang's Martial Arts Academy, calling the Hwang family, among other things, "greedy foreigners who simply did not understand simple contract relations." Price's client is in the middle of litigation with the Hwangs over a dispute about martial arts lessons.
Price's letter also said that the Hwangs, who are Korean American, were "relying on some ancient Asian principle" by refusing to agree on a settlement figure in the case.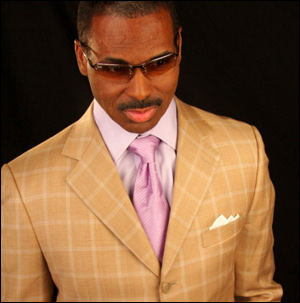 Karl Price, Esq.
To make matters worse, Price later defended his comments in an interview with
Insider Louisville
, saying he didn't believe the comments were offensive or derogatory. He said it was appropriate to assume the Hwangs were "illegal aliens" because of their "broken English."
"I do not think that that was derogatory," said Price. "I thought that that was an appropriate reference to them, because I don't know them to be American citizens... Some of those individuals (at Hwang's) may be illegal aliens. I don't know. My clients said that the individual they dealt with had some broken English. Now that doesn't necessarily make them a foreigner, I understand that. But based on the information we had, no, I do not believe that that was insensitive to refer to them as that."

"If I've offended anyone, I apologize," said Price. "That was not my intent. I'm surprised that you send a lawyer a letter and all of a sudden it makes it to social media. But in any case, it is what it is."

How does a guy like this, making shit comments about "broken English," have a license to practice law?
Between the letter and his comments in the interview, Jefferson County Attorney Mike O'Connell Office saw fit to send Price a
disciplinary letter
-- ooooh, a letter -- calling his conduct "insensitive and derogatory" and "discriminatory." Price gets an official written reprimand and is required to attend sensitivity training.
"While I sympathize with your explanation as to why you made these comments," O'Connell says, "your comments were discriminatory on their face and can never be justified."
That's it? That's it. That's a friggin' slap on the wrist. And this guy, who has no problem making awful, stereotypically racist remarks in the practice of law, works for the county attorney's office? Who knows what kind of shit he's pulled and gotten away with while in his position as a prosecutor?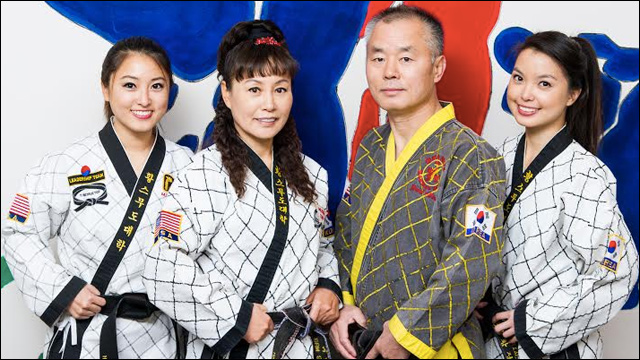 Hwang Martial Arts Academy
Mimi Hwang, whose family owns Hwang Martial Arts Academy, issued a statement calling the minimal discipline imposed on Price "appalling and insulting."
Given the fact that Karl Price is an experienced attorney who is obviously intelligent and well-versed in the law, as well as a minority, he should full well comprehend the importance of diversity. Therefore, any statements which he made in his May 22, 2015 letter were deliberate and calculated to incite fear, intimidation and racial discord. Once contacted by Insider Louisville and given an opportunity to apologize and walk back his statements, Mr. Price instead deliberately chose to throw more fuel on the fire by further demeaning and defaming our family and its business.

I have just been made aware through media reports that the Jefferson County Attorney's Office has issued Mr. Price a letter of reprimand with respect to this comments and actions. From this letter, it is clear that Mr. Price has made statements in attempting to defend his actions which claim that my family's business and our corporate attorney employed racial bias in dealing with his client. Such statements are false or were made by Mr. Price with a reckless disregard for the truth. My family's company has an exemplary record with respect to racial diversity, and I find the minimal discipline imposed upon Mr. Price to be both appalling and insulting.

Price apparently argued to O'Connell that his letter -- full of racial stereotypes -- was in response to believing his own clients were racially stereotyped, which Hwang says is a "reckless disregard for the truth."
Shit is ridiculous. Have fun doing sensitivity training, Karl.
More here:
Assistant county attorney keeps job, ordered to take sensitivity training for 'foreigners' letter (UPDATED)
FACEBOOK