Pioneering Korean American servicewoman dedicated her life to family and country.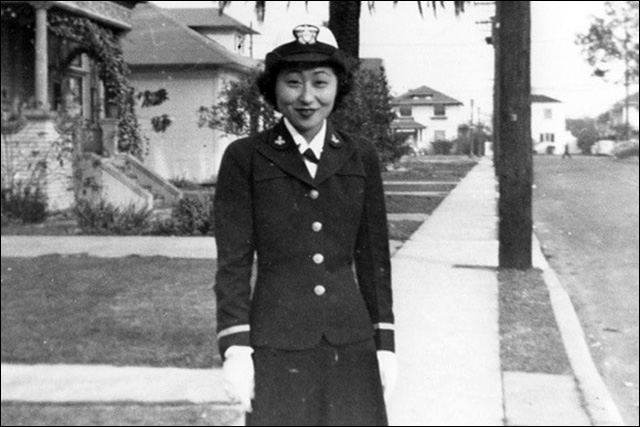 A pioneer has passed. Susan Ahn Cuddy, the first female gunnery officer in the United States Navy and the first Korean American to serve in U.S. Naval Intelligence, died Wednesday. She was 100 years old.
'Living Legend' Susan Ahn Cuddy Passes Away at 100
Born in Los Angeles in 1915, Cuddy was the eldest daughter of Korean independence activist Ahn Chang-ho and his wife Helen Ahn, who were among the earliest Korean immigrants to arrive in America.
After the bombing of Pearl Harbor, Cuddy enlisted in the U.S. Armed Forces in 1942, becoming the first Asian American woman in the U.S. Navy. She served until 1946, reaching the rank of lieutenant, and went on to work for U.S. Navy Intelligence, the Library of Congress and the National Security Agency, before retiring in 1959.
According to her son Philip Cuddy, she passed away peacefully at her home in Northridge, California.
More on her pioneering life and career, from her
bio
: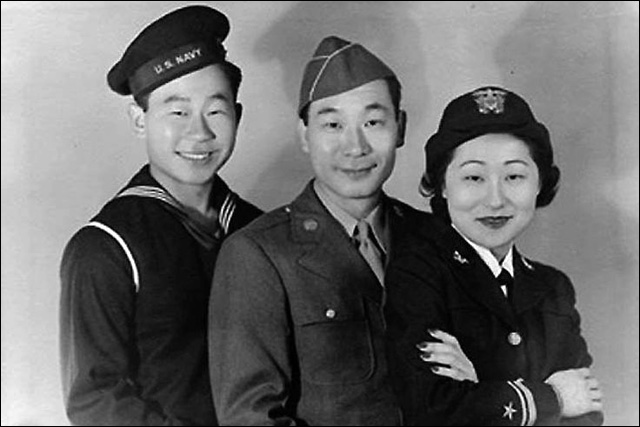 Susan Ahn Cuddy and her brothers Ralph Ahn and Philip Ahn.
Susan Ahn Cuddy was born in 1915 in Los Angeles, California as the eldest daughter of Dosan Chang Ho and Helen Ahn. Her parents were the first Korean married couple to immigrate to the United States in 1902. All of the Ahn Children were born in California. Her father told his children to: "Do your best to be good American citizens but never forget your Korean heritage." As the family established themselves, the Ahn house became a haven for many Korean immigrants. The Young Korean Academy (Hung Sa Dan) made its headquarters at the Ahn's residence as a resource center for many Korean immigrants. Many exiled Korean patriots, including Soh Chae Pil, the first Korean American citizen, visited the Ahns while they lived at 106 North Figueroa during the Japanese occupation of Korea. The Ahn family also lived at a house on the University of Southern California campus and today it serves as the Korean Studies Institute.

Even today, Mrs. Cuddy's accomplishments are considered remarkable and are, indeed, unparalleled. During her youth Susan Ahn Cuddy worked for many of Dosan′s Independence organizations in Los Angeles. She enjoyed and participated in sports such as baseball and field hockey. Susan graduated from San Diego State University in 1940 and joined the United States Navy in 1942 serving until 1946. She felt joining the Navy was a way to help free Korea from the harsh Japanese Colonial Era rule and was eager to join the Navy to fight the Japanese. Susan first worked as a Link Trainer and became the first woman Gunnery Officer training US Naval pilots. Susan Ahn Cuddy eventually became a Lieutenant and went on to work for US Navy Intelligence, the Library of Congress and The National Security Agency in Washington D.C. During the Cold War, she was in charge of a section of over 300 people working in the Russia section. She received a Fellowship from the National Security Agency to study at the University of Southern California in 1956. Afterwards, Susan worked on many top secret projects for the Department of Defense and other agencies during her service with the United States government until 1959.

In April 1947 Susan married Chief Petty Officer Francis X. Cuddy an American Irishman (deceased in 1994) who also worked for Navy Intelligence and NSA. He was a code-breaker and helped the United States free Korea through his specialty work since he spoke Japanese fluently. After his Navy career he worked for Kodak and GAF in film processing sales. He helped finance the Ahn family′s Moongate restaurant business.

In 1959 Susan Ahn Cuddy came home to Los Angeles and joined the Ahn family in managing the famous Phil Ahn's Moongate Restaurant in Panorama City until 1990. In 2003, the State Assembly of California of District 28 named Mrs. Cuddy the Woman of the Year in honor of her commitment to public service. On October 5th, 2006 she received the American Courage Award from the Asian American Justice Center in Washington D.C.

Earlier this year, on January 16, Cuddy celebrated her 100th birthday. And in March, in celebration of her trailblazing life and legacy, Los Angeles County declared March 10, 2015
"Susan Ahn Cuddy Day."
Rest in peace, Susan Ahn Cuddy.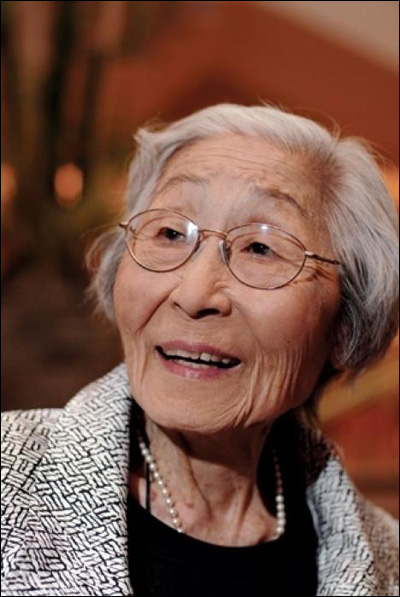 More here:
100 Years of Susan Ahn Cuddy
FACEBOOK