"I'm all about the work and that bass. No treble."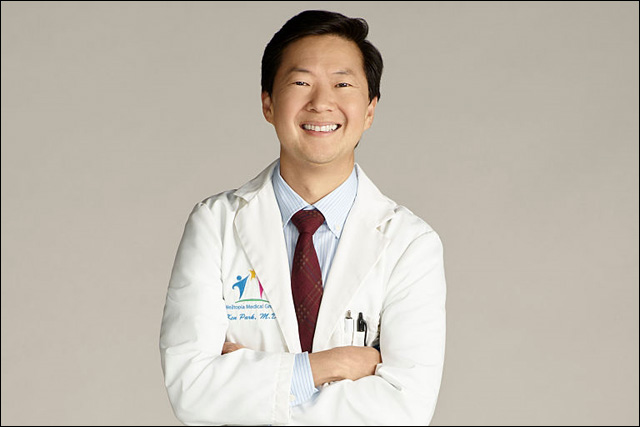 Hey, everybody! Gather 'round, because you know what time it is. It's time to meet the
Angry Reader of the Week
, spotlighting you, the very special readers of this website. Over the years, I've been able to connect with a lot of cool folks, and this is a way of showing some appreciation and attention to the people who help make this blog what it is. This week's Angry Reader is Ken Jeong.
Who are you?
I'm Ken Jeong, an actor who used to be a doctor.
What are you?
Father, husband, lover.
Where are you from?
Born in Detroit, Michigan. Grew up in North Carolina. Did my residency in New Orleans, and now living in Los Angeles.
What do you do?
I'm currently working on my show
Dr. Ken
on ABC, season premiering tonight at 8:30p/7:30c. It's been a labor of love.
Dr. Ken
is loosely based on my life, but it's evolving into something more.
Dr. Ken
is normalizing Asian-American family life. Margaret Cho (
All-American Girl
) plays my sister in an episode and Will Yun Lee (
The Wolverine
,
San Andrea
") plays an ex-boyfriend of my wife, brilliantly played by Suzy Nakamura (
Go On
). The rest of the cast is incredible. Krista Marie Yu (
The Thundermans
) plays my daughter Molly and steals every scene she's in. Albert Tsai, best known as Bert from
Trophy Wife
is a national treasure. Jonathan Slavin (
Better Off Ted
) and Kate Simses (
Mixology
) are incredibly nuanced actors who crush every take. Tisha Campbell-Martin ("Gina" from
Martin
) and Dave Foley (
Newsradio
and
Kids In The Hall
) are icons who I am proud to call my friends.
What are you all about?
I'm all about the work and that bass. No treble.
What makes you angry?
Ignorance, passive-aggressiveness, laziness.
ADVERTISEMENT