Hey! Another Asian American family sitcom! Airs Fridays on ABC.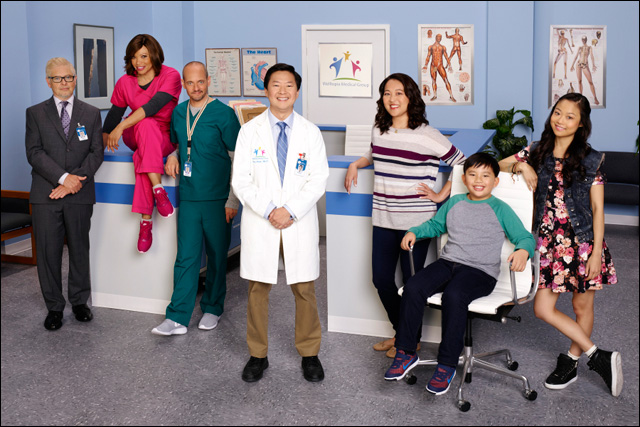 The new sitcom
Dr. Ken
, executive produced and starring Ken Jeong, premieres this Friday on ABC. Inspired by Jeong's real life as a practicing doctor, he stars as Dr. Ken Park, a physician with bad bedside manner trying to juggle medicine and being a family man to his wife and kids -- and not quite succeeding on either front.
I've seen it and I like it. The pilot is a bit uneven -- as pilot episodes often are -- but I'm looking forward to seeing where it goes and grows from there. I've also seen multiple future episodes in various forms, and it looks good. Is it going to be my favorite thing on TV? Can't say. But I urge folks to give it a multi-episode shot.
It's a traditional multi-camera comedy, shot in front a live studio audience, and marks the first Korean American family on prime time network television in over twenty years, since Margaret Cho's
All-American Girl
. (Not-so-coincidentally, Margaret Cho
guest stars on a future episode
as Ken's sister.)
This show is also noteworthy in that it's about a second-generation Asian American family (as opposed to
Fresh Off The Boat
, which is largely centered on an immigrant experience). I love that
Dr. Ken
offers up a very different slice of our multi-faceted and vastly diverse Asian American story in a fairly familiar TV format. I love everything about
Fresh Off The Boat
-- it feels like my childhood -- but in many ways,
Dr. Ken
feels like the show I could have grown up watching on Friday nights. (TGIF, y'all.)
Dr. Ken
also stars the awesome Suzy Nakamura as Ken's wife Allison, Krista Marie Yu as daughter Molly, and Albert Tsai as his son Dave. They're all great. The cast is rounded out by Tisha Campbell-Martin as Damona, Jonathan Slavin as Clark, Kate Simses as Julie and Dave Foley as Pat.
Here's a preview of the series premiere:
"Pilot"
Airdate: Friday, October 2 (8:30-9:00pm)
Ken is a cranky but lovable HMO doctor juggling medicine and parenting who realizes that even when he's right, his unorthodox approach is often wrong. Allison, his wife and a therapist, helps keep him in check while juggling responsibilities with their two kids -- Dave, their youngest, is always making things interesting with his quirky attitude, plus their teenage daughter, Molly, keeping them on their toes. Meanwhile at the clinic, Dr. Ken's staff includes his loyal, but oh-so-irritating staff, including a sharp tongued receptionist; a faithful nurse who is a confidante and partner-in-crime; a sweet, naïve resident who's relentless optimism and quest for romance are a constant source of curiosity and irritation; and his nemesis, the hospital administrator, who never misses a chance to put the screws to Dr. Ken and his staff.
In the first episode, Ken is stressed out at work over his "whining, complaining" patients so he needs a therapy session with Allison; while back at home, Ken is nervous about Molly's driving test -- "What if she doesn't fail!"
"Dr. Ken" stars Ken Jeong as Dr. Ken, Suzy Nakamura as Allison, Tisha Campbell Martin as Damona, Jonathan Slavin as Clark, Kate Simses as Julie, Albert Tsai as Dave, Krista Marie Yu as Molly, and Dave Foley as Pat.
Guest cast: Stephen Tobolowsky as Joe, Barak Hardley as Cellmate, Alonzo Bodden as Bouncer, Rene D. Moran as Narc.
"Pilot" was written by Jared Stern and directed by Scott Ellis. Executive producers are Mike Sikowitz, John Davis and John Fox. Ken Jeong and Mike O'Connell are co-executive producers. "Dr. Ken" is produced by Sony Pictures Television and ABC Studios.
Dr. Ken
airs Fridays at 8:30pm on ABC.
ADVERTISEMENT