But his school claims he slipped on a pencil.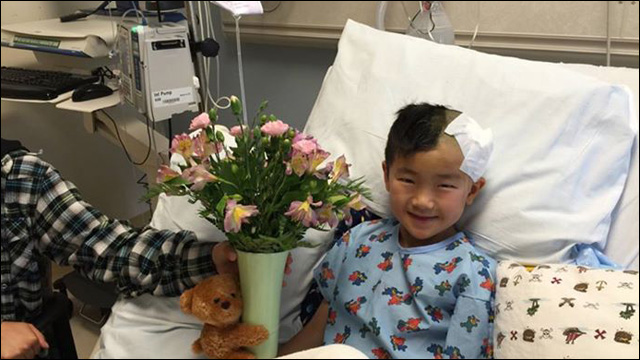 Got this story passed along to me via social media... This is a parent's frustrating, heartbreaking story of bullying and a school administration's refusal to take action or accountability for an incident that sent one young student to the hospital with a fractured skull. Ridiculously, the school claims the kid tripped on a pencil.
On the ironic occasion of anti-bullying week at her child's school, Jenny Yang (no relation to comedian Jenny Yang) shared a
Facebook post
about her son Jeremy's traumatic experience with bullying. Five months ago, Jeremy -- then, a first-grader -- was pushed and tripped by a boy in his classroom at Baldwin Stocker Elementary School in Arcadia, California. He suffered a fractured skull and brain bleeding, requiring surgery.
According to Jenny, the school not only refused to acknowledge that her son was bullied, but made up a story that Jeremy tripped on a pencil. Jeremy's parents are now sharing about his experience to raise awareness about bullying, and send a message to bullied kids "that there are still people who stand behind you and who will fight for you."
Here's Jenny's Facebook post:
After sharing her story, Jenny's post has been viewed and shared thousands of times. They've now created a Facebook page,
Justice for Jeremy
, to create further awareness and provide updates. This situation is infuriating, but perhaps a little public attention will pressure school administrators to finally take action, not only for the sake of one kid, but all the students who may face bullying at Jeremy's school.
FACEBOOK