35-year-old underdog candidate officially announces bid for California 46th District.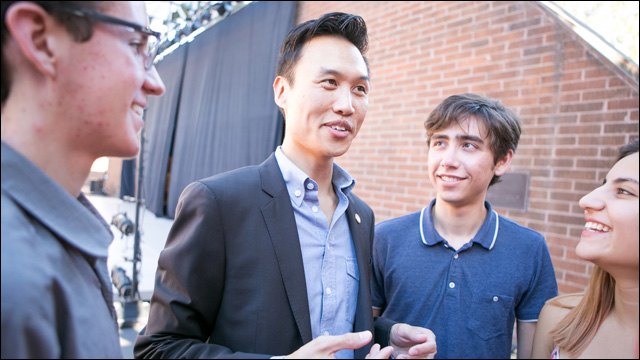 Bao Nguyen, the underdog activist and organizer who surprised pretty much everybody when he was elected mayor of Garden Grove, California last year, has announced that he is running for U.S. Congress.
Garden Grove mayor Bao Nguyen to announce bid for Congress
On Tuesday afternoon, Nguyen officially announced his candidacy to represent California's 46th district, which includes Santa Ana, Anaheim, and parts of Garden Grove and Orange.
He joins a crowded race to replace Rep. Loretta Sanchez, who is stepping down to run for U.S. Senate. The field already includes former state Senators Lou Correa and Joe Dunn and Anaheim Councilman Jordan Brandman, all vying for the top two spots in next June's primary election.
Nguyen, 35, made the announcement amongst a small gathering of supporters in Santa Ana:
Nguyen continued on, talking about his path to the country (born in a refugee camp, parents leaving Vietnam when his mother was 8 months pregnant), his main policy points (illegal surveillance is bad, immigration needs reform, women's health is good), and his desire for reform.

"The people want immigration reform, but it doesn't happen. The people want to protect women's health care, but it's attacked at every turn. The people want better schools, that lead to better jobs, and a better life for all, but all too often, it doesn't happen," he said. "The people want an economy that works for the families of this district, not just for the wealthy and the well connected. That's wrong, and that's why we have to reform Washington."

Nguyen, who represents a rapidly growing progressive tide within Orange County's Vietnamese American community, narrowly unseated incumbent Garden Grove Mayor Bruce Broadwater in 2014, becoming the first Vietnamese American mayor of a city with a population of more than 100,000. By day, he works as an organizer for the American Federation of State, County & Municipal Employees union.
This should be interesting.
More here:
In the Heart of Santa Ana, Bao Nguyen Makes His (Third) Stand
FACEBOOK