'Furious 7' director will produce and direct a revival of the 1980s action series.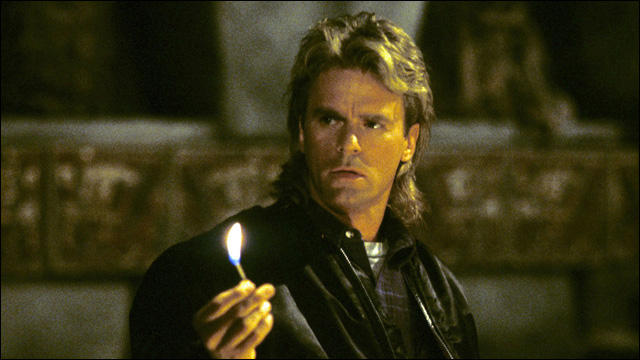 MacGyver
Here's a reboot I can get behind. Hot off the blockbuster success of
Furious 7
, director James Wan will serve as executive producer and direct a TV revival of the 1980s action classic
MacGyver
.
CBS rebooting MacGyver with Furious 7 director
The original
MacGyver
, which ran for seven seasons on ABC, starred Richard Dean Anderson as a resourceful top agent for the Phoenix Foundation, who never carries a gun and draws on his genius scientific knowledge to thwart bad guys and get out of jams. It was one of my favorite shows back in the day.
In case you forgot the glorious
MacGyver
theme song (and Richard Dean Anderson's glorious hair):
Totally 80s.
CBS is reportedly putting a new, reimagined
MacGyver
series in active development, following "a 20-something MacGyver as he gets recruited into a clandestine organization where he uses his knack for solving problems in unconventional ways to help prevent disasters from happening." Wan is reportedly on board to direct the pilot.
There have been several attempts to jumpstart new versions of
MacGyver
over the years, including a
Young MacGyver
pilot for WB that never got picked up. There's also, of course, Will Forte's popular
Saturday Night Live
parody "MacGruber," which actually got turned into a feature film.
James Wan
Wan himself was actually
trying to make a MacGyver movie
for years, but couldn't get it off the ground:
Wan has been trying to get a MacGyver feature film made for awhile now. New Line announced a MacGyver movie back in 2009, but it never quite got off the ground. Wan talked about his take on the project with CraveOnline earlier this year: "I love the concept behind MacGyver, and I love the direction that we were going with it … My initial concept was I wanted to do a young college MacGyver who went to Boston, one of the great universities, who's really brilliant, right? He's so smart he could never feel like he fit into a world that is an establishment. So he's always a bit of an outsider. He's very crafty, he's very smart, all kinds of science and mathematics and engineering. I wanted to put my MacGyver story around something like a North by Northwest: He gets blamed for something that he had designed, something really big that's something everyone wanted, and now someone has weaponized it and everyone's coming after him." Wan added that he had to give up the project to take on Furious 7.

Looks like James Wan is finally getting his shot at directing
MacGyver
.
More here:
'MacGyver' Reboot In Works At CBS
ADVERTISEMENT