Ravi Patel and Geeta Patel will co-direct the narrative comedy for Fox Searchlight.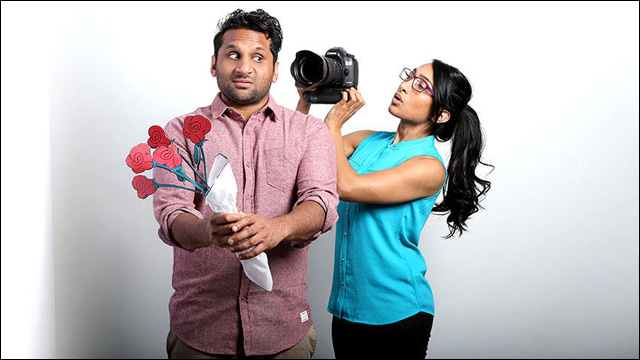 This sounds pretty cool... Ravi Patel and Geeta Patel, the sibling filmmaker team behind
Meet the Patels
, have signed a deal with Fox Searchlight to remake their hit documentary as a narrative comedy.
'Meet The Patels' In Fox Searchlight Remake Deal; Ravi And Geeta Patel To Write, Co-Direct
The film is the perfect real-life setup for a romantic comedy, so this is pretty much a no-brainer.
Meet the Patels
follows Ravi, nursing a devastating breakup, giving in to his parents' relentless pressure to let them find a suitable girl for him to marry. The film chronicles his hilarious attempt to find love the old-fashioned Indian way.
Ravi and Geeta will return to co-direct their own script.
Meet The Patels and its filmmakers were discovered at the Los Angeles Film Festival where the film -- which is part live action docu, with some animation -- won the Audience Award for its My Big Fat Greek Wedding-like storyline. Ravi Patel, a first generation Indian-American, turned 30 without finding a wife. He is relentlessly pressure by his parents to let them handle it — 35 years earlier they spent 10 minutes together before they were betrothed in an arranged marriage. The son, who never told his parents about the woman he just broke up with because she wasn't Indian, finally surrenders to their wishes. The docu is about the attempt to navigate a time-tested tradition in a modern world. His sister filmed it all and what started out as a home movie turned into something special.

Ravi Patel is an actor whose long list of credits include
Transformers
,
Scrubs
and
The New Normal
. He can currently be seen as a regular on the Fox comedy
Grandfathered
and in Aziz Ansari's upcoming Netflix series
Master of None
. Geeta Patel was most recently a second unit director on the Wachowskis' drama
Sense8
.
My only question: who will play Ravi's parents? Everybody knows that Champa and Vasant are the real stars of
Meet the Patels
. Please tell me that they'll just play themselves, like Aziz Ansari's parents in
Master of None
.
More here:
'Meet the Patels' Remake in the Works at Fox Searchlight
ADVERTISEMENT