Make it right, Hollywood Foreign Press Association. #makeitrightFOTB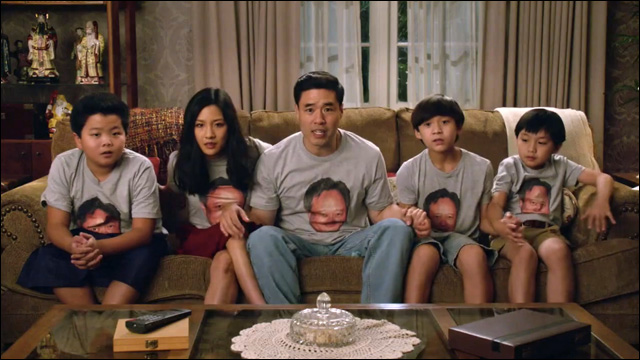 The year: 1996. Ang Lee's exquisite, critically-acclaimed adaptation of Jane Austen's
Sense and Sensibility
is an awards season darling, nominated for six Golden Globes -- including Best Director. But when the envelope was opened, the Best Director trophy was presented to Mel Gibson for
Braveheart
. Noooo! Ang wuz robbed.
Ang Lee walked away empty-handed. And nobody was more disappointed than the Huang family. In this special video message from
Fresh Off The Boat
to the Hollywood Foreign Press Association, we see the Huangs eagerly gathered around the TV on that fateful night, clad in their matching Team Ang t-shirts.
"A Taiwanese man directing a movie about white women in old England," gushes Jessica. "See, boys? Anything is possible if you study hard and become a lawyer."
There was so much hope. But we all know what happened that night. Here's how it went down:
The Huangs have not watched the Golden Globe Awards since 1996. The sting of disappointment has just hurt too much. Today,
Fresh Off The Boat
is calling on the Hollywood Foreign Press Association to rectify this injustice: "Give them a reason to come back by honoring them with a nomination. Ang Lee would want you.
**
"
"
**
This message has not been endorsed in any way by Ang Lee."
By the way, this is a hilarious awards promo. I love Evan's nod to
Silence of Lambs
(you'll recall than he went as Hannibal Lecter for Halloween). And dude, where can I get one of those awesome Ang Lee face shirts? We join the Huangs in their appeal to the Hollywood Foreign Press Association:
#makeitrightFOTB
FACEBOOK