Attackers yelled "Why are you here?"
In Fresno, police are offering a reward for information leading to the arrest of two men who hit a 68-year-old Sikh man with their truck, then beat him on the street, yelling, "Why are you here?"
Fresno police investigate beating of Sikh man as hate crime
Amrik Singh Bal, who wears a turban and beard in observance of his Sikh faith, was standing at an intersection in west-central Fresno, waiting for a ride to work early Saturday morning when two men in a car started yelling obscenities at him. Bal tried to cross the street to get away, but the attackers backed up the car and hit him. Then they got out and beat Bal before fleeing the scene.
During the attack, one of the suspects asked him, "Why are you here?"
Two white males stopped their car in front of Bal and started yelling obscenities at him, said Fresno police Sgt. Greg Noll. Fearing for his safety, Bal attempted to cross the street. It was then that the suspects backed up their car, hitting Bal with their back bumper, Noll said.

Then the two got out of the car and attacked Bal – striking him in the face and upper body.

During the assault, one of the suspects yelled "Why are you here?"

Bal fell to the ground and hit his head.

Bal suffered a broken collar bone and abrasions to his nose and right hand.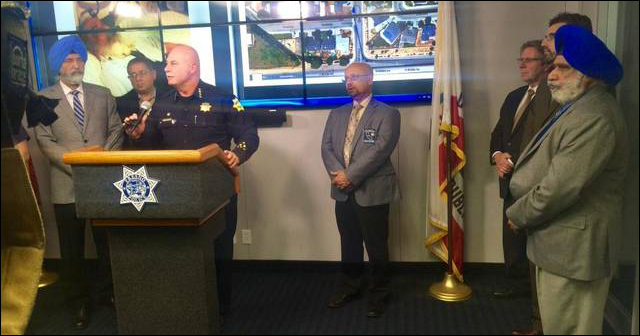 Police are offering a $5,000 reward for information leading to an arrest in the attack, which is being investigated as a hate crime. Fresno authorities are conferring with the Department of Homeland Security and the FBI.
The attackers are described as two men between 20 and 25 years old. One man was between 5-foot-10 and 5-foot-11 with a skinny build and no facial hair; he wore a dark waist-length jacket. The second man was the same height but was heavy set, possibly with a beard, and wore a dark-colored hoodie.
Anyone with information on this case is asked to call Crime Stoppers at 559-498-7867.
More here:
Sikh community reacts to suspected hate crime
UPDATE: The original $5,000 reward is now at $12,000.
FACEBOOK