40-year-old Rohinie Bisesar faces murder charge in unprovoked knife attack on Rosemarie Junor.
In Toronto, a suspect has been arrested in the unprovoked stabbing of a woman last week at a downtown drug store. Attempted murder charges were upgraded to second-degree murder after the victim died of her injuries.
Murder charge laid in 'unprovoked' Toronto stabbing
40-year--old Rohinie Bisesar is accused of fatally stabbing 28-year-old Rosemarie Junor last Friday at a Shoppers Drug Mart in Toronto's PATH network. According to investigators, Bisesar went into the store armed with a knife, approached Junor and stabbed her without apparent provocation.
Junor was taken to a trauma center with life-threatening injuries. She died on Wednesday night.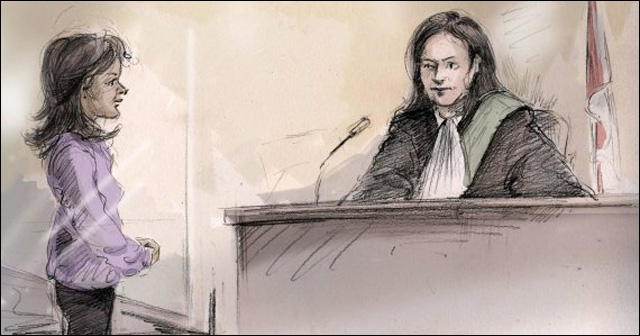 Rohinie Bisesar appears in court in Toronto on Wednesday.
Bisesar was arrested Tuesday and charged with attempted murder, aggravated assault and carrying a concealed weapon. The Toronto Police Service announced Thursday that the charges will be upgraded.
Just ten minutes before her arrest, someone claiming to be Bisesar emailed the
National Post
:
"Something has been happening to me and this is not my normal self and I would like to know who and why this is happening. There is either a single person or more responsible and who and why would be nice to know," the email read.

"I am sorry about the incidence," the email said. "I felt the need to be extreme to see if it would work. I would normally not do such a thing."

Police say they don't believe that Bisesar and Junor knew each other.
More here:
Woman who was stabbed at random in Toronto's PATH system dies in hospital
FACEBOOK