American Museum of Natural History pays tribute to 'The Joy Luck Club' author with "Chtonobdella tanae."
Okay. Researchers at the American Museum of Natural History have named a new variety of tiny Australian leech after Amy Tan. Yes, Amy Tan, author of
The Joy Luck Club
,
The Kitchen God's Wife
, and so on.
Tiny Leech Named for Amy Tan
Tan is apparently longtime supporter of the American Museum of Natural History. She has accompanied Mark Sidall, the museum's curator of invertebrate zoology, into the field in the past. Her 2005 novel
Saving Fish from Drowning
includes a number of references to jungle leeches.
As a tribute to Tan's support, the museum has named a leech for her.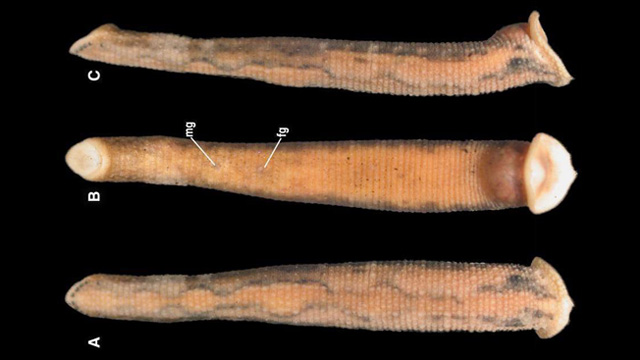 The two-millimeter-long, one-millimeter-wide Australian leech
Chtonobdella tanae
is the first new species of invertebrate without chitinous or calcified tissues, like a shell or exoskeleton, to be described with computed tomography (CT) scanning.
Ms. Tan she is "thrilled" to be immortalized as a leech.
"This humble leech has looped across a new scientific threshold -- the first microscopic soft-bodied critter to be described, inside and out, using CT scanning," Tan says. "Imagine the possibilities for identifying legions of tiny organisms that have thus far lived in obscurity."
Tan added that she's planning a trip Queensland, Australia to hang out with
Chtonobdella tanae.
"I hope to take leisurely walks through the jungle, accompanied by a dozen or so of my namesakes feeding on my ankles."
Gross.
More here:
Amy Tan to be honoured by naming of new species - of leech
FACEBOOK