Store owner Paul Shin was beaten by a teen who yelled "F*ck off home you Asians!"
News of racist violence out of Australia.... Last month in Terrigal, three days before Australia Day, a Korean shop owner and and his wife were assaulted by a teenager who repeatedly yelled "fuck off home you Asians!"
Terrigal outrage at police reaction after shopkeeper forgives boy who bashed him
Paul and Isabella Shin were viciously attacked outside their convenience store, The Little Shop, on January 23 by a 17-year-old boy who, with three friends, reportedly yelled "Fucking Asians, fucking go home!"
The attack, which sent Mr. Shin to the hospital with a black eye and extensive bruises on his arm and upper chest, came after moAnths of persistent vandalism at the store. In the wake of the attack, the Shins have decided to sell their shop and leave the area.
"My wife is shocked. I want to forget a bad memory," Mr. Shin told
The Sydney Morning Herald
.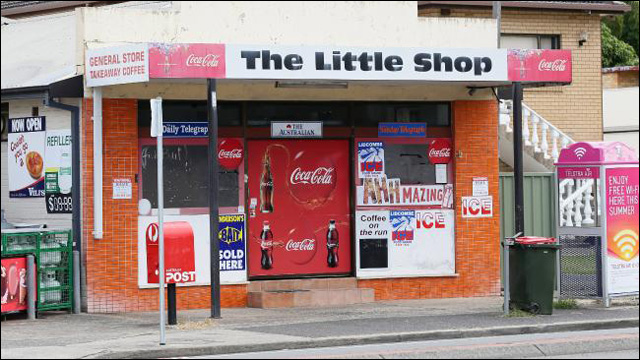 Paul and Isabella Shin were attacked outside their store on January 23.
He wants to move on. And amazingly, in an extraordinary gesture of forgiveness, Mr. Shin decided not to press charges against his teenage attacker. Instead, he offered to accept an apology from the boy.
"I don't want him to go the dark way. I want to give him a chance. I hope he has a good life."

Mr Shin made his statement to police and said he would accept an apology rather than see the 17-year-old charged. The apology occurred several days later.

"He said he was sorry and he would never do it again. I said I forgave him everything," Mr Shin said.

Several days after the apology, he invited the teenager and his mother to a second meeting after seeing the teenager absent from school.

He urged the youth to attend school and learnt that he hoped to join the army. He encouraged the teenager's mother to support him in attending school.

What drew outrage from the Terrigal community, perhaps almost as much as the attack itself, was a
local news article
that trivializes the severity of attack. Police official Daniel Sullivan was quoted describing the attack as "children doing the wrong thing" and praising the boy's mother for "responsible parenting." He goes on to suggest that the attack wasn't racially motivated.
Local blogger Nikki McWatters brought attention to the
Daily Telegraph
article, taking issue with its focus on "the tears of a seventeen year old boy who was forced to apologize." And like you, me, or any other rational person, she questions how anyone could interpret the attack as anything other than racially motivated.
"I'm sorry but in anyone's language, a seventeen year old punching a middle-aged Korean man in the face while calling him a 'f*ing Asian' IS RACIST!" McWatters wrote in the post, entitled
Something Rotten in the Town of Terrigal
. It has been viewed more than 100,000 times.
"To have the boy's mother, the police and the media suggesting otherwise lets this kid off the hook, enables his behaviour and screams of trivialising racism in this community. And I won't have it. Terrigal won't have it."
Call it what it is, and take some fucking responsibility.
More here:
This Community Came Together To Thank A Shop Keeper After He Was Assaulted By Teens
FACEBOOK