Rookie cop found guilty in fatal stairwell shooting of Akai Gurley.
In Brooklyn, jurors have found NYPD officer Peter Liang guilty of manslaughter and official misconduct in the death of Akai Gurley, an unarmed man who was fatally shot in a public housing stairwell in 2014.
Officer Peter Liang Convicted in Fatal Shooting of Akai Gurley in Brooklyn
On November 20, 2014, Liang and his partner were patrolling the Louis H. Pink Houses in Brooklyn. At one point, Liang opened a door into an unlit stairwell and his gun went off. The bullet ricocheted off a wall and hit 28-year-old Akai Gurley, who was walking down the stairs, piercing his heart.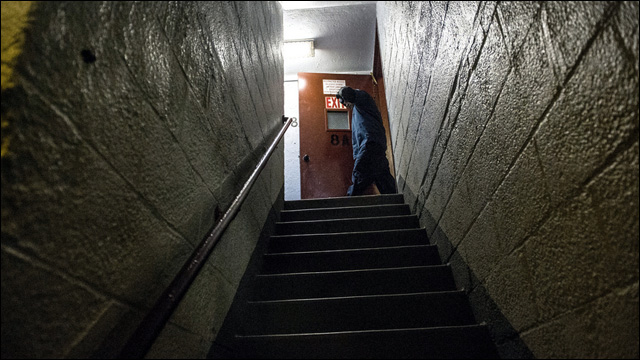 The Brooklyn stairwell where Akai Gurley was shot.
Liang claimed that the shooting was an accident.
"I heard something on my left side...It startled me (then) the gun just went off," Liang testified during the trial.
But prosecutors alleged that Liang, a rookie officer with 18 months' experience, shot into the dark stairwell "for no reason" and then wasted time arguing with his partner about who should report the shooting. Liang eventually called his sergeant's cell phone instead of reporting it over the radio, which is recorded.
"In fact, instead of calling for help, he just stood there and whined and moaned about how he would get fired," Assistant District Attorney Marc Fliedner told jurors.
The judge reads the verdict in court on Thursday night.
The jury deliberated a little over two days before reaching a verdict on Thursday.
Officer Liang was also found guilty of official misconduct for failing to help Gurley after he had been shot. Gurley's girlfriend, Melissa Butler, testified during trial that while she attempted to resuscitate him, Liang stopped briefly but did not help before proceeding down the stairs.
Liang was also facing charges of assault, reckless endangerment and criminally negligent homicide.
A police spokesman announced Thursday that Liang has been fired from the NYPD, and the department will begin the internal disciplinary process against his partner, Officer Shaun Landau.
Liang faces up to 15 years in prison on the manslaughter charge. He is due to be sentenced on April 14.
More here:
NYPD Officer Peter Liang found guilty of manslaughter in stairwell shooting that killed Akai Gurley
FACEBOOK