Angry customer set his 13-foot pet python loose in the restaurant after an altercation with management.
Okay, so this happened. Asians Behaving Badly... Snake Drop Edition! In Southern California, police arrested a man who got angry at the management of a sushi restaurant... and threw a giant snake at them.
Man Accused Of Throwing 13-Foot-Long Python At Sushi Bar Customers In Studio City
On Sunday night, 46-year-old Hiroshi Motohashi had dinner at Iroha Sushi of Tokyo in Studio City. After paying for his $200 meal, he pulled out a small snake -- an actual live reptile -- and showed it off to customers sitting down for dinner. The customers did not respond positively.
Restaurant managers confronted Motohashi and asked him to leave, presumably informing him that snakes are not allowed at Iroha. Motohashi got mad and left, but returned a few minutes later with a 13-foot-long python.
"[Expletive] you guys," Motohashi reportedly said. Then he threw the snake on the floor of the restaurant.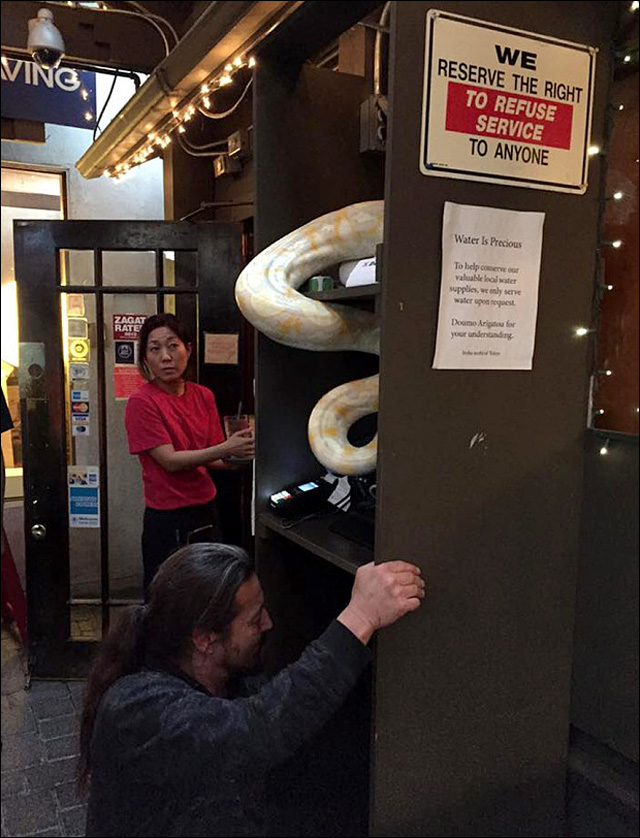 "We reserve the right to refuse service to anyone."
Understandably, customers freaked out. Some fearful patrons apparently ran out of the restaurant as the large yellow serpent slithered its way through the premises and eventually got stuck near a cash register.
"Get this thing out! You know, everyone's like eating so customers are yelling, 'Get this thing out! Are you crazy,'" waitress Jessie Davaadorj told CBS2.
I have so many questions. Does this guy just like to carry around snakes? All right. People like to show off their pets. But does he live nearby? Did he go home, pick up the python, and bring it back to the restaurant? Or did he have the 13-footer stashed in his trunk out in the parking lot? And really, what was the point of this little serpent stunt? We get it dude; you think snakes are awesome.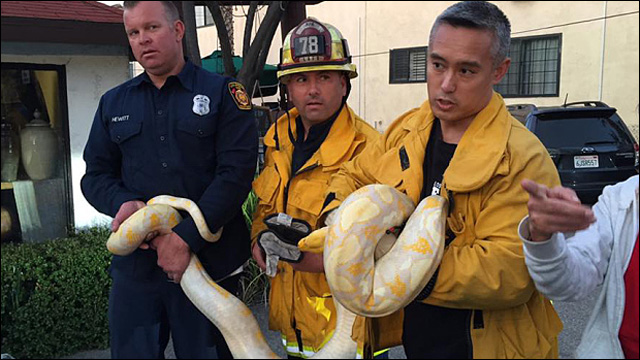 The fire department and animal services were eventually called to the restaurant. Animal control officers took the snake, as well as the snake, into custody. As far as I know, no snakes were charged with any crimes.
Motohashi, however, was arrested on suspicion of making criminal threats.
More here:
Angry man spends $200 at sushi restaurant, leaves 13-foot python instead of tip
FACEBOOK