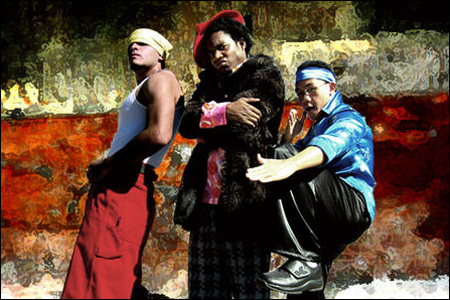 Three words: N*GGER WETB*CK CH*NK. Before you get all bent out of shape, be aware that
N*GGER WETB*CK CH*NK
is a provocative, critically-acclaimed, smash-hit three-man stage show blending theater stand-up comedy, slam poetry, and true-life stories to take on racial slurs, stereotypes and the concept of race itself in a 90-minute stage production. Here's a recent article on the show:
Show's unspeakable name opens dialogue on race
. And another one here:
Trio gives personal, funny look at racism
. According to cast/co-writers Miles Gregley, Rafael Agustin, Allan Axibal:
"The show traces the origins and evolution of three derogatory terms that shaped our lives and took the place of a genuine understanding of our distinct cultures. In doing this show we hope to depower these words for ourselves and for our audiences."
I've heard a lot about this show, and have been wanting to check it out for a while. It's been touring at colleges and venues all around the country for the last couple of years, and is landing back in Los Angeles—where it all started—this week, starting tonight. Seven performances a week, running June 7th through July 29th at at the Ivar Theatre in Hollywood. For more information about
N*GGER WETB*CK CH*NK
, go
here
. Also check out some cool video clips
here
and
here
. For ticket info, go
here
.