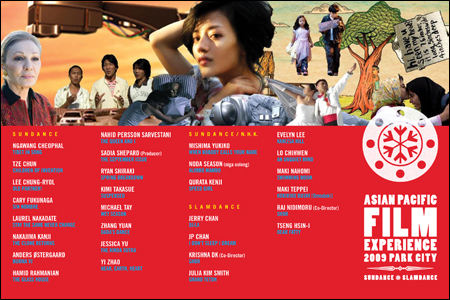 This week, the movie industry descends upon the otherwise sleepy ski town of Park City, Utah for the 2009 Sundance Film Festival. There are a small number of films being represented by Asian and Asian Pacific American filmmakers at Sundance (as well Park City's counter-festival Slamdance):
SUNDANCE
Tibet in Song
- Ngawang Cheophal
Children of Invention
- Tze Chun
Old Partner!
- Lee Chung-Ryol
Sin Nombre
- Cary Fukunaga
Stay the Same Never Change
- Laurel Nakadate
The Clone Returns
- Nakajima Kanji
Burma VJ
- Anders Ostergaard
The Glass House
- Hamid Rahmanian
The Queen and I
- Nahid Persson Sarvestani
The September Issue
- Sadia Shepard
Spring Breakdown
- Ryan Shiraki
Suspensed
- Kimi Takesue
Wet Season
- Michael Tay
Dada's Dance
- Zhang Yuan
The Kinda Sutra
- Jessica Yu
Hear, Earth, Heart
- Yi Zhao
SUNDANCE/NHK
When Nobody Calls Your Name
- Mishima Yukiko
Alimbo Mambo
- Noda Season (Niga Oolong)
Speed Girl
- Qurata Kenji
SLAMDANCE
DJ:LA
- Jerry Chan
I Don't Sleep I Dream
- JP Chan
Shor
- Krishna DK & Raj Nidimoru
Grand Teton
- Julia Kim Smith
Kanizsa Hill
- Evelyn Lee
An Unquiet Mind
- Lo Chihwen
Swimming Moon
- Maki Nahomi
Kokiriko Bushi
- Maki Teppei
Dear Fatty
- Tseng Hsin-I
If you're headed to Park City as an Asian American film fan, join the small community collective of folks who make up the "Asian Pacific Film Experience" and celebrate our filmmakers and stories. On Sunday, come on out to the annual APA Filmmakers Reception at their new location (what happened to the Chinese restaurant?) to mix and mingle with filmmakers and festivalgoers:
MEET THE APA FILMMAKERS RECEPTION
Sunday, 1/18/2009 | 5pm - 7pm
THE QUEER LOUNGE
608 Main St. Third Floor Lounge
Park City, UT
RSVP by Friday, Jan 16 to: AsianPacificFilm@gmail.com with "Park City RSVP" in the subject line.
MEET US AT THE LODGE
Saturday, 1/17/2008 | 1:30pm - 4:30pm
Filmmaker Lodge Elks Building
550 Main St. 2nd Floor
Park City, UT
Learn more about funding, distribution and exhibition for Asian Pacific American films at our annual outreach session.
For more information, go
here
. It's all sponsored by Visual Communications (VC), Center for Asian American Media (CAAM), Asian CineVision (ACV), San Diego Asian Film Foundation (SDAFF), Asian Pacific American Film Inc., Process Space Consulting, APA First Weekend Club, and David Magdael & Associates.
So yeah, things came together sort of last minute, but it looks like I'm going to Park City. For sure, I'll be at the reception, but other than that, I'll be trying hard to scrounge up tickets to anything and everything. If anyone's got the hook up... hook it up!