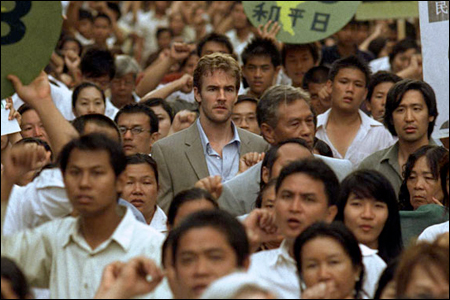 There are a handful of noteworthy independent films that have recently been released on DVD. I've got a bunch sitting in a stack next to my TV, but I just haven't had time to watch any of them yet. However, I figured you'd want to know about them...
Like the conspiracy thriller
Formosa Betrayed
, co-written and produced by Will Tiao, and directed by Adam Kane. Based on a true story, it's about a FBI agent who uncovers an international conspiracy while investigating the murder of a Taiwanese American professor. Here's the synopsis:
Inspired by actual events, FORMOSA BETRAYED is the story of FBI Agent Jake Kelly's investigation of the brutal murder of a Taiwanese-American professor on U.S. soil. With the help of his partner Tom Braxton and a sharp Chicago police detective, Agent Kelly discovers that the murderers have fled to Taiwan.

Agent Kelly is overseas to assist the Taiwanese government's search for the killers. Initially guided by an American diplomat and a Taiwanese official, he soon realizes that not only is he an unwelcome guest in a foreign land, but that something more treacherous is happening beneath the surface.

With the help of Ming, a Taiwanese activist, Agent Kelly discovers the unsettling truth about the island once called Formosa, leading the dangerous and painful consequences. Agent Kelly finds himself on a collision course with the U.S. State Department, the Chinese Mafia, and ultimately the highest levels of the Republic of China government in Taiwan, where this FBI agent discovers how a complex web of politics, identity, and power affects the lives and destinies of the citizens in all three countries - including his own.
The film's cast includes Will Tiao, Tzi Ma, Thienchai Jayasvasti Jr., Kenneth Tsang, Adam Wang and Tonray Ho, among others. Here's the trailer:
Taiwan's unique cultural and political struggle for independence is definitely an untold story -- and a controversial one at that -- for American audiences. Shady government figures, dark dealings, and bloody assassinations -- no doubt, it's the kind of stuff that good political thrillers are made of.
The story behind the production of the movie is also pretty interesting. Will Tiao took upon himself to raise $8 million on his own to make this movie, with the majority of the funds coming from members of the Taiwanese American community. It's the testament to the idea that the only way for Asian American stories to get told is to do it ourselves.
That said, on the other hand, what's always sort of bothered me about this project is the film's star, James Van Der Beek. I understand that casting the dude from
Dawson's Creek
probably made the movie more attractive to investors. Hey, you gotta pay the bills. But it supports what I've said before: you can tell any story, set in any part of the world, in any time period, and somehow find a way for it to star a white guy.
Take it for what you will. Like I said, I actually haven't seen the movie. I have to at least admire the community effort that went into making this project happen. For more information about
Formosa Betrayed
, go to the movie's website
here
.