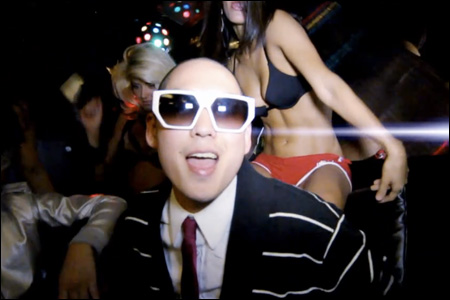 Here's
Far East Movement
latest music video for
"2Gether,"
their collaboration with Grammy Award-winning house DJ Roger Sanchez and Kanoby. It's a huge, thumping club track -- one of my favorite songs from
Free Wired
. Never thought I'd ever hear FM successfully sample the B-52s' "Love Shack," but there you go. Check it out:
Okay, there's some fairly blatant product placement for the
Rover Puck
. But that's pretty cool device. I want one. And the video's fun, bringing it all together. Here's a short
behind-the-scenes video
on the making of the video:
Can't wait to eventually hear this single on the radio. Here's some more background on the song and the music from Far East Movement's
blog
:
Big thank you to Roger Sanchez for having us on his video shoot for his official single "2Gether" which is also also featured on our Free Wired album as an FM remix version. He first sent us the track and the concept about music bringing people 2gether around the world and the instrumental with the Love Shack sample had us jumpin in the studio till 5am with our fam Kannoby who's singing "everyone must shine 2gether tonight". Wrote and recorded the song right before heading on tour and sent Roger the vocals while on our tourbus thru our Rover wireless card so they had to drop one in the vid. This track made us feel like the party we've been waiting all year to have... When Roger hit us up for a concept he had for his music vid about everyone partying in the world and bringing the party to Ibiza we hopped on a plane right away and joined the party.
For more information on Far East Movement and their music, go to FM's website
here
. And of course, if you haven't picked up their album
Free Wired
yet,
get it now
.