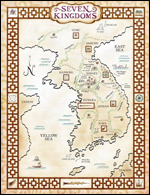 This is some cool literary news... Got word passed along to me that
Ellen Oh
has just sold a three-book deal to HarperCollins for her young adult trilogy,
The Dragon King Chronicles
, a fantasy tale that draws from the mythology and culture of ancient Korea.
The first book,
Prophecy
, is about a female warrior who must protect her cousin, the crown prince of Hansong, who may or may not be the legendary Dragon Knight fated to reunite the Seven Kingdoms. Here is the announcement from Publisher's Marketplace:
January 4, 2011
Children's: Young Adult
Ellen Oh's PROPHECY: The Dragon King Chronicles, in which an elite warrior and bodyguard to her cousin, the young prince, is feared and mistrusted by all except a select few in the Kingdom who know of her power as a demon hunter, and how she may be the vanguard in the coming war against invading forces, to Phoebe Yeh at Harper Children's, in a good deal, in a three-book deal, for publication in Summer 2012, by Joe Monti at Barry Goldblatt Literary (NA).
And this is Ellen's own excited blog post with the big announcement:
Life is Good
. Here's the part I really like:
But no one at the old job could understand why I was doing it. Why I was quitting. Couldn't understand that I was serious about this writing thing. One of my colleagues actually laughed and said "Yeah, right. Keep dreaming!" I was determined to prove him wrong.

When I told my Dad about wanting to write a book about ancient Korea, he was so excited he wanted to help in anyway possible. He got me a ton of books and even translated ones that were only in Korean. My Dad told me that what I was doing wonderful and that he was proud of me. He said a book like this was needed and should be published. I was determined to prove him right.

During the agent query process, one agent actually wrote to me "Ugh, ancient Korea? Who would want to read that?" I was determined to prove her wrong.

Over the years, there have been so many moments when another person's negativity caused me to second guess what I was doing, but I never gave up. I still believed in myself and in my book. But I also had a family that believed in me even when the rest of the world didn't. And I owe it all to them that I never gave up and that my dream is coming true.
This is great news. Ellen tells me that her book just might be the first fantasy novel published in the States, and by a major publisher, that is based in and uses legends and myths of Korea. The first book is slated for release in summer 2012, with books 2 and 3 scheduled for summer 2013 and 2014, respectively. I can't wait to read it.
To learn more about Ellen Oh and the
Dragon King Chronicles
, check out her website
here
, and her blog
here
. Congratulations!