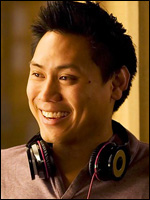 Though I was a pretty huge fan of the 1980s-era
G.I. Joe
cartoon/toy/comic books, I never actually got around to watching 2009's live action adaptation
G.I. Joe: The Rise of Cobra
. But it looks like Jon M. Chu, fresh off a $30 million+ opening weekend for his latest film
Justin Bieber: Never Say Never
, is a top contender to direct the sequel:
"G.I. Joe" sequel narrowing in on director
.
According to the
Hollywood Reporter
, Chu and F. Gary Gray are the "hot candidates" to direct Paramount Pictures'
G.I. Joe
sequel. With the studio prioritizing the latest installment of the franchise for 2012 release, they're probably interested in finalizing a director soon:
Chu, of course, is no stranger on the studio lot, having directed "Justin Bieber: Never Say Never," which opened to $29.5 million last weekend. Before that, he directed two installments in Disney's "Step Up" dance franchise.

For that matter, neither is Gray, who directed "The Italian Job" for Paramount to $168 million worldwide in 2003. He was last in theaters with the 2009 action thriller "Law Abiding Citizen."

Released in August 2009, "G.I. Joe: The Rise of the Cobra" grossed $150.2 million domestically and $152.3 million internationally for a total of $302.5 million worldwide.
This would definitely be a step in a different direction for Chu, having made a name for himself with dance-oriented projects like his two
Step Up
movies and
The LXD
. But he's certainly proven that he knows how to successfully handle crowd-pleasing -- if not necessarily intellectually challenging -- cinematic spectacle. And that's definitely what the studio is going for with
G.I. Joe
. We shall see.