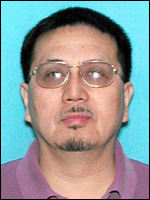 Asians behaving badly... casino robbery edition! In Las Vegas, three men -- Edward Land, Hiroyuki Yamaguchi and Steven Gao -- are accused of robbing the Rio last Thursday:
Court hearings scheduled for two men accused in Rio robbery
.
Land and Yamaguchi were arrested Friday on charges of robbery with a deadly weapon, burglary with the use of a deadly weapon and conspiracy to commit robbery. They're scheduled to appear in court on Tuesday morning.
Meanwhile, authorities are still looking for Steven Gao, who is accused of walking into the Rio wearing a fedora hat, a wig, a fake mustache and sunglasses, then stealing $33,200 in chips and leaving in a taxi.
According to a police report, Land told police Gao owed him $15,000 and robbed the casino to pay back the debt.

Land dropped Gao off at the Rio in a Land Rover and knew of Gao's plan to rob the casino, police said.

Gao entered the casino about 4:30 a.m. and went to a Pai Gow poker table and began taking chips from the dealer and putting them in a black shoulder bag, according to Metro Police Lt. Ray Steiber.

After the dealer hit Gao's hand, Gao allegedly took out a gun, police said.

Police said. Gao finished the robbery, then left the Rio with Yamaguchi, a cab driver who police said also knew of Gao's robbery plans.

After the robbery, Gao and Yamaguchi went to the Terrible's hotel-casino at Flamingo and Paradise roads, where they met Land, Steiber said.
Police recovered $1,000 in casino chips and a stolen handgun in Yamaguchi's cab. They also recovered $17,000 worth of chips -- buried in the backyard -- a wig and a black bag from Land's home.
According to a police report, Gao reportedly has a gambling problem, which is probably what led to him to rock that fake mustache attempt this dumbass robbery. More here:
Details emerge about Vegas casino robbery blunder
.