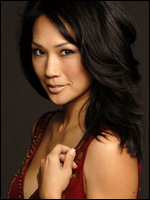 Check it out. Just helping to spread the word about this... So actress
Diane Mizota
is currently in the running to be Ashton Kutcher's
VP of Pop Culture for Popchips
. I know -- what the heck does that mean? Well, the winner gets to host content for Popchips for a year and gets paid
$50,000
. Yes, being VP has its perks.
Diane shot, produced and edited her own video entry for the contest, and is currently among the top twenty entries, and rising fast. She needs your votes to help her win this thing. To watch Diane's video and vote, go
here
.
(Ugh, but did she have to remind us that she was in that
Austin Powers
movie?)
If you want to help Diane nab that fifty thousands bucks, you can vote for her once a day from your Facebook account until March 9. I hope she wins this thing. And for more information on Diane Mizota (she has a fairly length resume), check out her official website
here
.