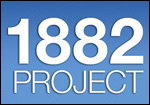 Got this call to action passed along to me from
The 1882 Project
...
Last month, House Resolution 282 and Senate Resolution 201 were introduced in Congress with bipartisan support. The resolutions express regret for a series of laws Congress passed between 1879 and 1904, that excluded persons of Chinese descent from immigrating to the United States and denied them U.S. citizenship. Basically, the laws were racist.
In 1943, Congress repealed these discriminatory laws, but there has never been any acknowledgment of the pain and suffering associated with the laws. All these years later, isn't it about time the U.S. government acknowledged and stopped ignoring this dark part of its history?
Here's what you can do to urge Congress to pass these resolutions:
IMMEDIATE ACTION: needed in order for Congress to pass these resolutions

CONTACT YOUR MEMBERS OF CONGRESS. Call, write or email to tell your Representative and Senators to support HR 282/SR 201. To find your Members of Congress, visit www.Congress.org and enter your ZIP CODE in the box on the right-hand side. Click on your Representative and/or Senator and select the "Contact" box for their information.

TELL YOUR FRIENDS AND FAMILY. Call, text, email, tweet, or like the 1882 Project on Facebook. Tell your friends and family to contact their Members of Congress, too.
The 1882 Project
is a nonpartisan, grassroots effort to address the Chinese Exclusion Laws. To learn more about the discriminatory history of these laws, how to contact your members of Congress and/or to engage with the 1882 Project, visit the 1882 Project's
Take Action Page
or
Facebook page
.