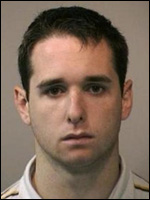 On Friday, at an emotionally wrenching court hearing, a judge sentenced 26-year-old Raymond Clark III, the former Yale lab technician convicted in the September 2009 murder of pharmacology graduate student Annie Le, to 44 years in prison:
Yale lab tech gets 44 years for killing student
.
Le's body was found stuffed in a wall of the Yale Animal Research Center on what was supposed to be her wedding day, five days after she went missing. According to authorities, she had been strangled, and her jaw and collar bones had been broken. Clark was
arrested
four days later and in March
pleaded guilty
to murder and attempted sexual assault. On Friday in court, he apologized:
"Annie was and will always be a wonderful person, by far a better person that I will ever be in my life," Clark said. "I'm sorry I lied. I'm sorry I ruined lives and I'm sorry for taking Annie Le's life."

Judge Roland Fasano told Clark that he'd snuffed out the life of a promising young woman and virtually destroyed the lives of two families.

Clark pleaded guilty to the killing earlier this year, and prosecutors revealed at the time that he had left behind evidence of a sexual assault and desperately tried to cover his tracks.

Le's relatives repeatedly sobbed as they described how what was supposed to be a joyous wedding turned suddenly into mourning the loss of a woman whose research included finding new treatments for chronic diseases. Clark, whose fiancee attended the hearing, wiped away tears as they spoke.

"She was about to start her life as a young bride," said Le's mother, Vivian. "She told me many times how happy she was to start her family. I will never see her walking down the aisle. I will never hold my grandchildren. I will never see Annie's dreams come true."
Clark pleaded guilty in March to murder and attempted sexual assault under an agreement with prosecutors. The 44-year sentence carries no possibility of parole or early release, but even that seems too short, doesn't it? I can only imagine what the kind of torture this has put her family through. More here:
Raymond Clark III on killing Yale grad student Annie Le: 'I took a life and continued to lie about it.'