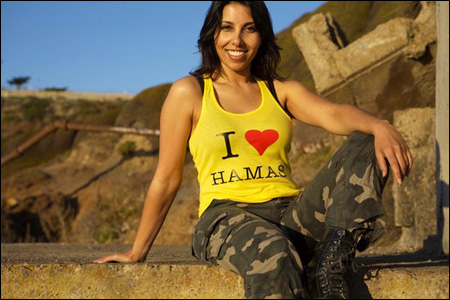 Some more Southern California performance stuff... Numerous folks have highly recommended
I Heart Hamas: And Other Things I'm Afraid to Tell You
, Jennifer Jajeh's solo about Palestinian American identity, which is playing June 9-25 at the
Hollywood Fringe Festival
. Here are some more details about the show:
I Heart Hamas: And Other Things I'm Afraid to Tell You

Hollywood Fringe Festival
at Theatre Asylum Lab
6320 Santa Monica Blvd
Los Angeles, CA

Thurs, June 09, 7:30 PM
Sun, June 12, 2:00 PM?
Fri, June 17, 2:00 PM
Mon, June 20, 7:00PM?
Tues, June 21, 7:00 PM
Sat, June 25, 12:30 PM

Jennifer Jajeh is Palestinian. Well, Palestinian American. Or more precisely: a single, Catholic, first generation, Palestinian American woman who chooses to return to her parents' hometown of Ramallah at the start of the Second Intifada. Join her on American and Palestinian soil on auditions, bad dates, and across military checkpoints as she navigates the thorny terrain around Palestinian identity in this tragicomic solo show.
Like I said, I've heard great things. If you're interested in checking it out, there are only six shows throughout the festival, so make sure you get your
tickets
early. For more information about
I Heart Hamas
, go to the Hollywood Fringe Festival website
here
and Jennifer Jajeh's website
here
.