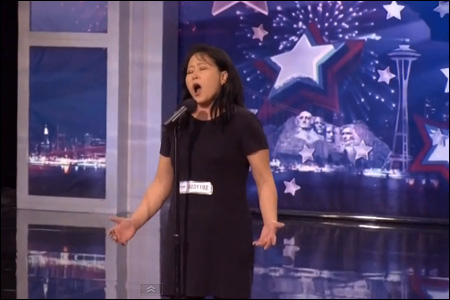 Seems like every season of every televised talent competition is boasting the arrival of the "next Susan Boyle." This week, lots of people are buzzing about
Cindy Chang
, the 42-year-old housewife who wowed the judges on NBC's
America's Got Talent
with her amazing voice, and won herself a trip to the next stage in Las Vegas. Take a look:
>
She plays up a little of that "Tiger Asian" angle, talking about parents who wouldn't let her sing... but she is pretty freaking adorable. Not to mention clearly moved by the audience and judges' response. She's definitely the kind of story these shows
love
-- an unknown, humble diamond-in-the-rough, plucked from obscurity to television superstardom.
So then I read over on The Creative Life Podcast blog that there's some controversy surrounding Ms. Chang's credentials. Turns out, she's represented by a talent agency and has a fairly substantial resume. Perhaps she's not quite the out-of-nowhere closet opera singer the TV might have sold you on:
Real or Fake?: Cindy Chang's "Susan Boyle" Moment on America's Got Talent
.
Still, there's no denying her talent. I hope she makes it far in the competition!