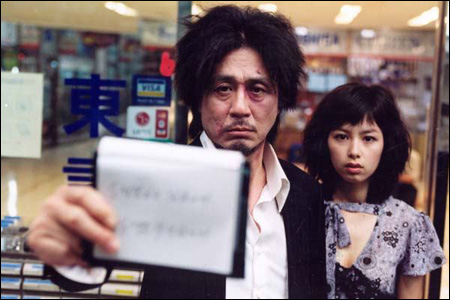 At this point, I think we'd all be better off if the Hollywood remake of
Oldboy
never happens. But it looks like they're just going to keep trying.
Park Chan-Wook's fantastically twisted 2003 revenge thriller has been on the American remake track for years, with none other than Justin Lin originally attached to direct. Up until recently, the project has been in the hands of Steven Spielberg and Will Smith, though those plans apparently fizzled.
But it ain't dead yet. This week, we get the news that plans for the
Oldboy
remake are still chugging along, and
Spike Lee
is currently in talks to direct:
BREAKING: Spike Lee In Talks To Direct OLDBOY Remake
.
Twitch has learned that Spike Lee is currently in talks to direct the long-rumored Hollywood remake of Park Chan-Wook´s Oldboy.

Word of a US remake of the Park Chan-Wook revenge classic first surfaced in 2008 with word that both Steven Spielberg (in some capacity) and Will Smith were eyeing the project and now it appears to finally be moving ahead.

The film is set up at Mandate with Doug Davison and Roy Lee producing and Mark Protosevich (Thor, I Am Legend) writing the script.
I'm not opposed to remakes, but I've always thought an
Oldboy
remake was completely unnecessary. Worst Idea Ever territory. However, nobody is listening to me. Might as well get used to the idea that this remake thing, in all its foolishness, is eventually going to happen.
If I had to pick, Spike Lee wouldn't have been my first choice for director. But he's not at the bottom of the list either. And he's certainly a better fit than Spielberg for this material. (Seriously, have you
seen
the movie?) More here [be warned, if you haven't seen the original film, this article includes
MAJOR
plot spoilers]:
Spike Lee to direct "Oldboy" remake?
UPDATE: The rumors are true:
It's Official: 'Oldboy' Is Now A Spike Lee Joint
. The proposed remake is reportedly not intended to be "a slavish shot-for-shot remake but to take elements of the Park film combined with elements of the manga and completely re-envision and re-contextualize those to create a specifically American story around the same concepts and themes":
Movie Or Manga, What Is Being Adapted For Spike Lee's OLDBOY?