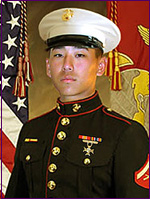 Back in April, we heard about the death of
21-year-old Harry Lew
, who was serving in Afghanistan. According to this post over at
KoreAm
, some more details have emerged about Lew's death, and the circumstances are tragic:
Congresswoman's Nephew Commits Suicide After Marine Hazing Incident
.
First of all, I had no idea that Lew was Congresswoman Judy Chu's nephew. At the time of his death, the Defense Department didn't really disclose any details on how he died. But according to the
Marine Corps Times
, Lew committed suicide after a hazing incident involving two other Marines:
The report outlines an incident at Patrol Base Gowragi, in Nawa district, that escalated over several hours. It began with Lew not responding to calls on his radio about 11:15 p.m. on April 2. A sergeant found him sleeping in a fighting hole, and told other lance corporals that "peers should correct peers," without providing specific instruction, the report said.

Two other lance corporals, whose names are redacted from the report, pulled Lew from the fighting hole by his helmet at about 11:30 p.m. and berated him for falling asleep, the report said. Over the next four hours, they berated him repeatedly and ordered him to do pushups, crunches and other exercises while he was wearing his body armor, according to the investigation. One of the Marines stomped on his leg repeatedly when he "failed to do an exercise properly," the report said.

Eventually, one of the Marines assaulted Lew again at about 3:05 a.m., according to the investigation. The lance corporal kicked dirt on Lew, kicked him and punched him before being stopped by another Marine, the report said.

Lew killed himself while alone in the fighting hole within the hour.
I've never served in the military, but I know it's probably pretty serious to fall asleep while manning a guard post. But when a sergeant instructs soldiers that "peers should correct peers," I wonder if that's a thinly veiled suggestion to stomp and kick the shit out of a fellow Marine.
One of the lance corporals is expected to receive a non-judicial punishment from his battalion for assault, while the other Marine is expected to face court-martial on a charge of cruelty and maltreatment. My condolences to the Harry Lew's family. It's deeply saddening to hear he felt that this was his only option. More here:
Marines face punishment for hazing that preceded guard's suicide
.