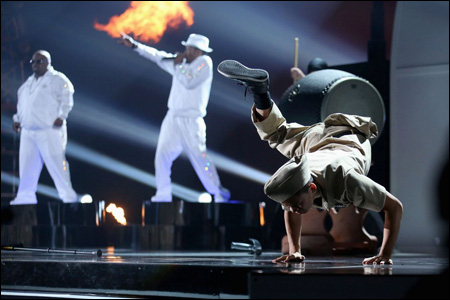 If you caught Cee Lo Green performing on the Billboard Music Awards the other night, you might be wondering, who the heck was that
one-legged b-boy
that was tearing up the stage? Here's your answer:
One-Legged Dancer Steals Cee Lo's Show at Billboard Awards
.
His name is Jean Sok, aka B-boy Hourth, and he can do more on one leg than you can do with any and all your limbs intact. You can view a brief clip of Sunday night's performance
here
. But holy crap, be sure to check out this
video
of him in action:
If this doesn't inspire you, you might want to check your pulse. And to the folks in charge over at
DS2DIO
, please tell me you've gotten in touch with this guy!