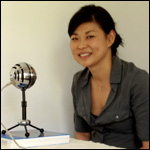 Greetings, new listeners. Thanks to everyone who checked out the
premiere episode
of Sound and Fury: The Angry Asian Podcast. I know the quality was a little rough, but we're working on it, and I appreciate your support with this new project.
That said, we're already back with episode two. Whaaaat. I know it's only been a couple of days since the first one, and I'm not planning on churning out future episodes this quickly, but this one's sort of time-sensitive for film fans in Southern California, so I wanted to get it out there as soon as possible.
So gather 'round, my friends, for episode 2...
Some notes on this episode:
Big thank you to Shinae. Special thanks to Sabzi for the music. And to everybody else, thanks again for listening. If you dig it, please
subscribe
, spread the word and check back for future episodes.