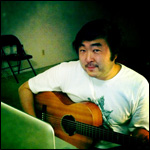 Greetings, angry listeners. A big thank you to everyone who checked out episodes
001
and
002
of Sound and Fury: The Angry Asian Podcast. And much gratitude for all the great feedback. Be sure to
subscribe
if you haven't already.
We took a little break after hustling hard to release those first two episodes so close together, back-to-back. Still getting used to format. But Sound and Fury is back and ready to go with another episode.
So, without further ado, check out my conversation with Goh Nakamura...
Some notes on this episode:
Real big thank you go Goh, and also to Michael Aki for letting us use his place. Special thanks to Sabzi for the music. And to everybody else, thanks for listening. If you dig it, please
subscribe
, spread the word and check back for future updates.