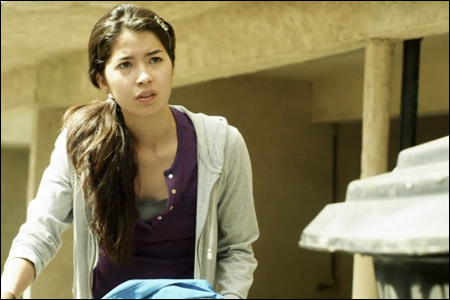 Over the weekend in New York, Asian CineVision wrapped up the
35th Asian American International Film Festival
and announced this year's festival award winners, including director Jayshree Janu Kharpade, who won The One to Watch Award for her short film
Fire In Our Hearts
; and director Vincent Sandoval, who was awarded The Emerging Director Award for Narrative Feature for his film
Senorita
. Here's the full list of festival winners:
AAIFF'12 AWARD WINNERS

- The One to Watch Award was presented to director Jayshree Janu Kharpade for her short film FIRE IN OUR HEARTS. Eligible films were screened in the shorts program FOR YOUTH BY YOUTH, written and directed by talented youths between the ages of 15 and 20. FIRE IN OUR HEARTS is an autobiographical film written and directed by a 15-year-old schoolgirl, Jayshree Janu Kharpade, who was born to an indigenous family (aka tribals) that have been disenfranchised at the very bottom of India's poverty ladder. With a strong courage to learn and conviction to give back to others, Jayshree documents her family and village, as well as the tenacious efforts of the tribal union for the equal rights to education, thanks to which she is able to attend a school for tribal girls.

- The Audience Choice Award for Documentary Feature was presented to A LOT LIKE YOU, directed by Eliaichi Kimaro. Tender, intellectual, and reflective, director/writer Eliaichi Kimaro explores her intricate identity as a Tanzanian-Korean mixed-race, first-generation American in her award-winning documentary. A LOT LIKE YOU lodges a personal lens to the perception of postcolonial and immigrant histories, confidently and sincerely bringing out the conversation between the individual, family and culture.

- The Audience Choice Award for Narrative Feature was presented to MODEL MINORITY, directed by Lily Mariye. L.A. teenagers must survive the treacherous world of peer pressure, drug dealers, juvenile hall and dysfunctional families. Kayla, an underprivileged Japanese American girl with a drug addict mom and an alcoholic dad, endangers her promising future as an artist when she becomes involved with a drug dealer.

The following two awards were selected by two separate panels of jurors from a preselected list of nominated films:

- The Emerging Director Award for Narrative Feature was awarded to director Vincent Sandoval for his film SEÑORITA. Sandoval is also the co-screenwriter, co-producer, and leading actor in the film. Wanting to quit sex work in Manila and start a new life, Sofia, a transgender woman, reinvents herself as Donna in the small town of Talisay to look after her friend's son. But her past soon catches up with her when she gets involved in the complex politics of a local election, and her two lives cannot be kept apart. Other films nominated for this award were MODEL MINORITY (dir. Lily Mariye), PEARLS OF THE FAR EAST (dir. Cuong Ngo), SHANGHAI CALLING (dir. Daniel Hsia) and VIETTE (dir. Mye Hoang). The jurors who judged these nominations were film critic John Anderson, executive director of Film Society of Lincoln Center Rose Kuo and award-winning Art Director Wing Lee.

-The Excellence in Short Filmmaking Award was awarded to MY SPIRITUAL MEDICINE, directed by Liang Cheng. Lead actor Takahiro Morooka accepted the award on the director's behalf. Two white-collar clerks set up a private radio program in the bustling Shanghai. An Otaku lady lives in isolation. As the random fates of individuals are linked and changed by the radio wave, love, in all possible forms, burgeons. Other films nominated for this award were HOW TO EAT YOUR APPLE (dir. Erick Oh), ONCE (dir. Jie Chen), SHANGHAI LOVE MARKET (dir. Craig Rosenthal) and THE LAST MARBLE (dir. Manjari Makijany). The jurors who judged these nominations were award-winning filmmaker Buboo Jakobsson, actor Ken Leung and film distributor Cindi Rowell.
Some films to look out for. To see photos from the 35th Asian American International Film Festival, check out Asian CineVision's Flickr stream
here
.