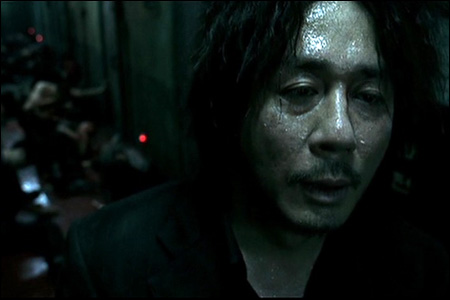 After years and years of rumors, starts and stops, and everyone from Justin Lin to
Steven Spielberg
at various points attached to direct a remake of the South Korean revenge thriller
Oldboy
, it looks like this thing is really happening.
So you've heard
Spike Lee
is directing, and Josh Brolin is starring. Now they're filling in the rest of the roles. Take a look at this casting call that came my way. It has a full list of character names and descriptions, which gives you an idea of what this remake might look like...
OLDBOY

Feature Film

SAG-AFTRA

Director: Spike Lee
Exec. Producer: Spike Lee
Producers: Nathan Kahane, Doug Davison, Roy Lee, John Powers Middleton
Co-Producer/Writer: Mark Protosevich
Screen Play: Jo-Yun, Chun-hyung Lim, Chan-wook Park
Casting Director: Kim Coleman
Casting Associate: Jackie Sollitto
Casting Assistant: Keisha Richardson
Callbacks: Aug. 12, 2012 (Sunday)
Shooting / Start: October 1, 2012
Location: New Orleans

SUBMIT ELECTRONICALLY

[WALLACE SHARKEY] Male, 60ish, Caucasian. Joe's well-tailored, slickster boss.

[DONNA HAWTHORNE] Female, Mid 20s, Caucasian. Joe's ex-wife and mother of Mia. Once a homecoming queen, now a stripped down hardworking single mom.

[DAVE BERMAN] Mid 40s to 50s. African-American. Shlubby, but very welthy businessman. Joe hits on his much younger girlfriend.

[ASIAN WOMAN] Female, Early to mid 20s, Asian. A mysterious exotic beauty sitting at the bar observing Joe. MARTIAL ARTS EXPERIENCE A PLUS

[CHUCKY] Male, Mid 40s, Caucasian. A free spirited likeable human teddy bear who sports loud vintage Hawaiian shirts. Joe's best friend.

[BROWNING] Male. Caucasian. Small in stature. A career criminal with pockmarked skin.

[CORTEZ] Latin male. 50s. A bullishly strong street thug/criminal.

[JAKE PRESTON] Male, Mid 30s to mid 40s, Caucasian. A clean cut tough looking former cop; the no-nonsense host of the TV show "Unsolved Crimes."

[ADULT MIA] Female, Early 20s, Caucasian. A musical prodigy on cello. Sensitive, intelligent, beautiful but humble. CELLO EXPERIENCE A PLUS.

[GRACE] Female, 50s, African American. A drug addicted nutcase in the Mobile Hospital.

[JOHNNY] Male, Mid 40s to 50s, Caucasian. A disheveled, schizophrenic man who is on the street near the Mobile Hospital unit.

[A BURLY MAN] Male, 40s, Caucasian. Muscular and serious with close-cropped hair.

[THE CHECKPOINT] Male, 40s, Open Ethnicity. A serious looking sort (probably trying to hold down two or three jobs to support his family) who is sitting at a desk in the underground parking garage.

[EDWINA BURKE] Female, Late 50s to early 60s, Caucasian, distinguished-looking. She is from Evergreen Academy where Joe attended school. She is tough, smart, and very much a lady, but a lonely one.

[SECURITY GUARD] Male, 40s to 50s, Caucasian. The guard at Evergreen Academy that patrols the grounds and takes his job a bit more seriously than he needs to.

[AMANDA PRYCE] Female, 14, Caucasian. Adrian's younger sister. She is pretty, yet shy and a bit awkward-looking.

[YOUNG JOE DOUCETTE] Male, 17, Caucasian. A young Josh Brolin.
Do note that the lone Asian character on this list is simply called "Asian Woman" and is described as "a mysterious exotic beauty" who happens to know martial arts. Yeah, can't wait for that.
I'm not crazy about this remake, but to be honest, I'm not totally against it either. I'm sort of in the middle, and this casting call just makes me say "bleh." Because no matter what happens, Park Chan-wook's original
Oldboy
is still a crazy insane kickass movie, and nothing changes that. Let them do what they want.