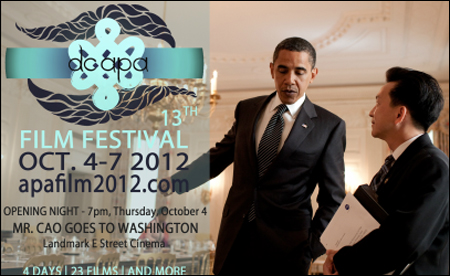 DC film fans, it's going down. This week, be sure to check out the
13th Annual DC Asian Pacific American Film Festival
, running October 4-7. Four days of some of the best films from the landscape of independent APA cinema.
Things kick off this Thursday at the Landmark E Street Cinema with the Opening Night presentation of S. Leo Chiang's documentary
Mr. Cao Goes to Washington
. Here's a brief rundown of the festival lineup:
Thursday, October 4

Landmark E Street Cinema
Opening Night - 7pm
Mr. Cao Goes to Washington
Traces No. 2: Union

Friday, October 5

Freer & Sackler Gallery of Art, 7pm
Mrs. Judo: Be Strong, Be Gentle, Be Beautiful
Two Seconds After Laughter

Goethe-Institut, 8pm
The Crumbles
The Nice Girls Crew (Parts 1 & 2)

Goethe-Institut, 10pm
I am a Ghost
The Company of Thieves

Saturday, October 6

Goethe-Institut, 2pm
Touch

Goethe-Institut, 4pm
Daylight Savings
The Champions

U.S. Navy Memorial
Closing Night - 6pm
Don't Stop Believin': Everyman's Journey
The Problem of Gravity

U.S. Navy Memorial
Closing Night - 8pm
Shanghai Calling
Bleached

Sunday, October 7

Goethe-Institut, 1pm: Shorts Program
Obake
Dol (First Birthrday)
Incoming
Couch
Hip Hop Maestro

Goethe-Institut, 3pm
Model Minority
Wonder Boy

Goethe-Institut, 6pm
Salad Days
Looks like they've curated a really interesting, eclectic lineup of films for all tastes. For further details, including the full film/event schedule, tickets and venue information, visit the festival website
here
.