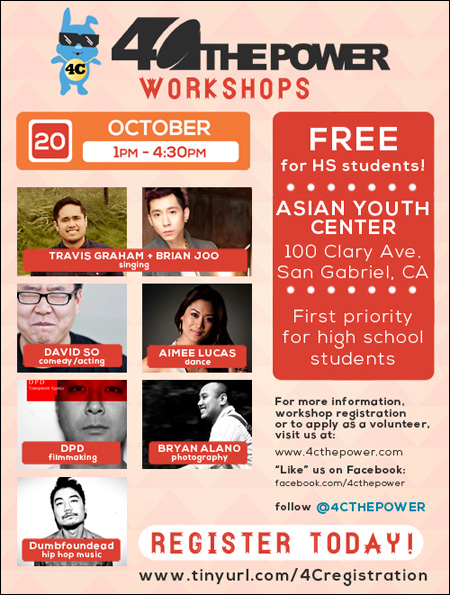 The
4C The Power
Program provides standards-based trainings and arts workshops that connect professional artists with youth to promote a greater connection to education, their school and community.
This month, 4C The Power presents the latest round of
workshops
, free for high school students, featuring Dumbfoundead, Travis Graham, Brian Joo, David So, Aimee Lee Lucas, DPD and Bryan Alano. It's happening Saturday, October 20 at the Asian Youth Center in San Gabriel, California.
Here are some more details:
4C The Power Workshops

Saturday, October 20, 2012
1:00pm to 4:30pm

WORKSHOPS CONNECTING ARTISTS TO KIDS AND KIDS TO THEIR COMMUNITY!

Learn from talented artists and 4C Mentors:

Dumbfounded- Hip Hop Music
Travis Graham- Acousitc Music
Brian Joo-Acoustic Music
David So-Comedy/Acting
Aimee Lee Lucas-Dance
DPD- Filmmaking
Bryan Alano-Photography

AND, you just never know what other artists will be there too!!!

FREE for high school students!!!

REGISTER: www.4cthepower.com
Did I mention that the workshops are free for high school students? For further information, and to register to participate, go to the 4C The Power website
here
. Also see (and share) the Facebook event
here
.