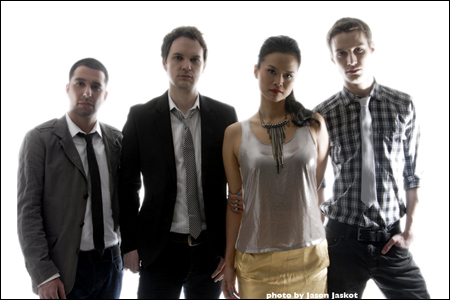 Teresa Lee, lead singer of the New York City-based indie pop band PaperDoll, is dropping guest posts on the road during the "All or Nothing" China tour.
Obama almost ruined our tour.
It's 4:30am the day after the election and we're waiting in a car for Will at Union Square. Our flight is at 7:30a out of Newark and post-Sandy, the tunnels are all closed so we don't have much room for error. I call Will, it goes straight to voicemail. We figure he's on the subway.
4:45am .... I call again - straight to voicemail. 5am...still no sign of him so we look up his roommates' phone numbers on facebook and ring them. One of them answers and we learn as suspected, Will slept through his alarm. He stayed up watching election results. As a band mate - BOOO! As an advocate of civil responsibility - I give the English immigrant a pass.
Fast forward to Newark airport where we all board our flight and are happily on our way to Shanghai. The flight is akin to sitting in an igloo for 14 hours; it's a dark hollow enclosure surrounding by people who's check "Asian/Pacific Islanders" on their SAT race box and ... it's f$%king freezing. Jack fell asleep with gloves on and Will had on his wool cap.
We arrive in Shanghai to a familiar nemesis who Patrick and I know intimately. Whenever we visit China, we inevitably get a visit from him. He shows up unexpectedly and lingers for days demanding our immediate attention at inopportune moments. Probiotics don't ward him off. Immodium? Childsplay! When you get a visit from him, you just have to give him what he wants (bland food and plenty of water) and he'll go away leaving you 4-7 pounds lighter.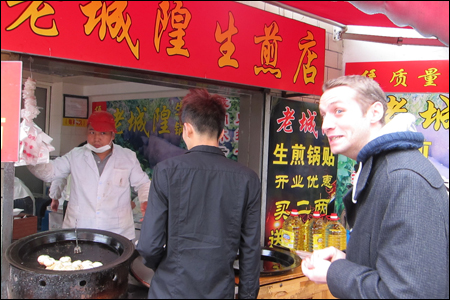 After a quick 5-hour snooze, we get up the next day to find "sung jin bao" - pan fried soup dumplings! Will eats eight of them in 4.5 seconds. It's a like a cartoon where his arms are moving so fast you see a cloud. The 3rd degree burns on his tongue are well worth the deliciousness he's waited for for over a year.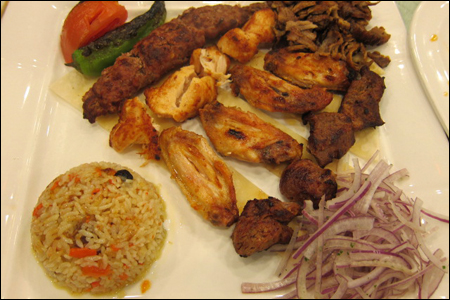 Then it's off to lunch with friends! A light fare of lamb, stringy potatoes, beef tendon, a variety of roasted meats, and the best fish soup I've ever tasted in my life.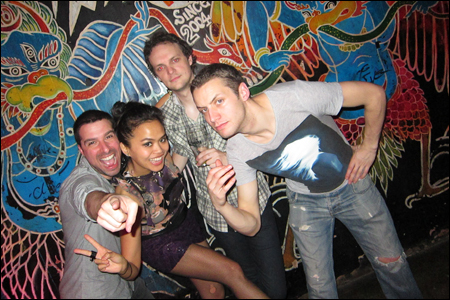 We start the show at Yuyintang with a chugging contest ... hosted by my brother Ashton and won by my brother Aaron Lee (who both live in Shanghai). If anyone reading this has ever drank with Aaron, you all know the other contestants didn't know what hit them. One of them - a German dude - drank so slowly I that I'm pretty sure he only entered it for the free beer. Fair play.
After the gig, the boys go out with Aaron to a nightclub. I'm exhausted and go back to my hotel room. I hear what I convince myself are cats fighting in the alley. The girl cat and a boy cat fought for hours and hours. They fought so long that my iPod runs out of batteries and I have to put in earplugs to fall asleep.