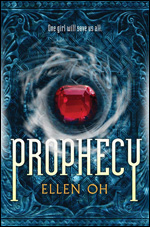 I just cracked open
Prophecy
, the debut novel by Ellen Oh.
It's a young adult fantasy adventure rooted in ancient Korean folklore, about a badass young female warrior outcast named Kira who has crazy yellow eyes and slays demons. It has a kingdom in peril, a dangerous quest, a ragtag crew and a villainous Demon Lord. You know, everything a proper fantasy adventure tale needs. And swords.
I've been looking forward to reading this book for a while, every since we got news that Ellen Oh had signed a
book deal
for her trilogy, The Dragon King Chronicles -- possibly the first American novel of its kind, from a major publisher, drawn from and inspired by the legends and myths of Korea.
Here's the book
trailer
for
Prophecy
:
Like I said, I just started reading it, but so far so good.
Prophecy
is out now on hardcover and Kindle from HarperTeen. You can find it at bookstores everywhere -- including Barnes and Noble, where it's featured this month as a Top Teen read -- as well as
Amazon
. For further information, visit author Ellen Oh's
website
.