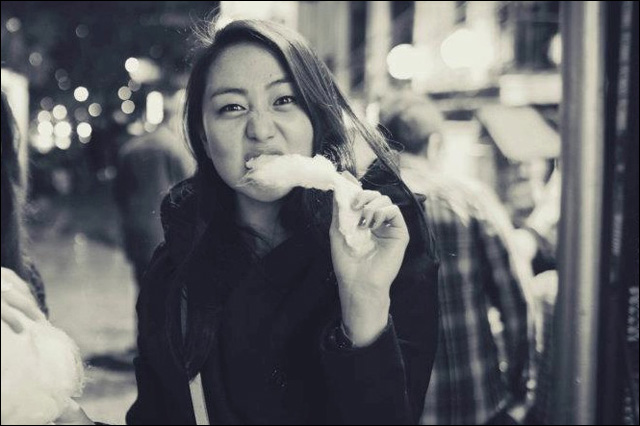 Friends, it is time again for you to meet the
Angry Reader of the Week
, spotlighting you, the very special readers of this website. Over the years, I've been able to connect with a lot of cool folks, and this is a way of showing some appreciation and attention to the people who help make this blog what it is. This week's Angry Reader is Deb Hwang.
Who are you?
Deborah Seiwon Hwang
Family and childhood friends call me 'Deborah,' people call me 'Deb,' and close friends call me 'Derb.'
What are you?
I am...
Korean American
An annoying kid sister to David
An extroverted introvert
A foodie
A student at the University of Wisconsin-Madison studying under Professor Cindy Cheng and Professor Timothy Yu (past January '13
Angry Reader
)
Addicted to movie trailers and clips (
movies.yahoo.com
is where it's at) and personality theories
The bad pk
Technologically inept
Consuming and creating music
Nerdfolyfe
Into real and stimulating conversations
And an actual Angry Asian American
Where are you?
Madison, Wisconsin, where there are thunder snowstorms
Where are you from?
I grew up in Madison for 21 years, but I was born around Chicago and lived a little bit in Milwaukee.
What do you do?
I am a senior at the University of Wisconsin-Madison where I study History, Asian American Studies, and Education Policy Studies.
I am the co-chair for the second consecutive year for the student organization Asian American Student Union. Our mission is to create a community for Asian Americans and allies, while educating the campus community about Asian American issues. AASU is an important haven on a campus where only 11% identify as non-white, of which 2% identify as students of color and the other as international students. Basically, that means confronting blatant racial ignorance on a daily basis.
Also, a lot of us come from communities where we grew up around few or no Asian Americans. By the time we get to college, we are craving a safe space to deconstruct our identities and understand our history.
AASU has been my passion throughout my college career, and I would not have survived without it. (Shout out to AASU board of '12-'13! Y'all are awesome.)
Which brings me to my other work. AASU played a role in establishing the Asian American Studies Program here at UW-Madison. I am currently working on my senior thesis (under Cindy Cheng) on the history of the program, one of the first in the Midwest.
Our understanding of the Asian American Movement is heavily based on the west coast, when the first Asian American studies program was established at San Francisco State after the longest student strike in history in 1968-69. But there is little attention given to Asian American experiences in other areas, especially the Midwest where there are far smaller and scattered communities. By looking at the history of the Asian American studies program at UW-Madison, I'm trying to tell the story of the Asian American Movement in the Midwest and our unique experiences and challenges. It only makes sense because Asian America is always struggling for visibility, but the Midwest Asian America is often ignored.
I'm also doing this because I want the Asian American campus community to know our history as students, faculty, and staff in context of the overall Asian American movement. We may be few and small, but we have been a significant part of it.
You can hear more about the project in this
radio interview
under Sunday, 12/30.
What are you all about?
I am about...
Wisconsin beer
Spreading the gospel of Korean food
Poetic justice
And stories. Personal, family, oral, historical, all kinds of stories. Listening and telling stories. Stories through written word, spoken word, music, dance, pictures.
Stories are incredibly important. They ground us and empower our identities through knowledge and awareness.
What makes you angry?
When universities misrepresent themselves as caring for and fostering diversity, when in reality, little support is given to students of color and organizations, and racist incidents are ignored (pay attention, UW-Madison).
Republican people of color
Picky eaters
Evangelical hipsters. Please, check your racial, class, religious, and cultural ignorance.
Racism and racial prejudice, both across and within racial groups
When Asians and Asian Americans use the 'n' word