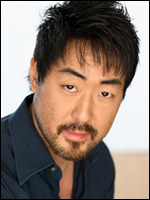 Some more television news... Actor Kenneth Choi has joined the cast of the NBC pilot
Ironside
, a remake of the old Raymond Burr detective drama that ran from 1967 to 1975:
Kenneth Choi Joins NBC Pilot 'Ironside', Erin Pineda Added To Fox's 'Dads.'
The show is about a wheelchair-bound police detective, Robert T. Ironside, played by Blair Underwood. Trivia side note: hardcore fans know that Bruce Lee guest starred on an episode of the original
Ironside
, "Tagged For Murder," in 1967. Here's a cool
vintage video clip
of Bruce in action.
Choi is perhaps best known as Jim Morita, one of the Howling Commandos in 2011's
Captain America: The First Avenger
(or maybe you remember him for his awesome William Shatner impression in that one Priceline commercial). In
Ironside
, he will play Captain Ed Rollins, Ironside's supervisor:
Written by Mike Caleo and directed by Peter Horton, it centers on Robert T. Ironside (Blair Underwood), a tough, sexy and acerbic police detective relegated to a wheelchair after a shooting who is hardly limited by his disability as he pushes and prods his hand-picked team to solve the most difficult cases. Choi will play Captain Ed Rollins, Ironside's supervisor. Despite their push/pull relationship Ed and Ironside have a tremendous amount of respect and admiration for each other.

Cool. Just based on the name, it looks like the character wasn't necessarily written with an Asian American actor in mind. I like that. I hope the show gets picked up so we can see Kenneth in action.
According to Deadline, Kenneth Choi will also reprise his role as Jim Morita in the upcoming sequel
Captain American: The Winter Soldier
, but I haven't been able to find anything else confirming his return. Hope we'll get to see him kicking some ass in that movie too.