I'm sure somebody thought they were being clever. That somebody needs to get fired.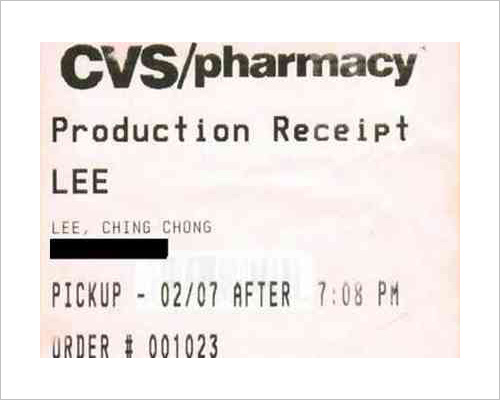 Oh hell no. Not this again. The latest edition of
Racist Receipts
comes from New Jersey... And Asian American woman is suing a CVS Pharmacy, where an employee referred to her with a racial slur --
"Ching Chong Lee"
-- on her receipt:
N.J. woman sues CVS for $1M, saying worker used Asian slur on her receipt
.
Hyun Lee was picking up photos being developed at a CVS in Egg Harbor City, when she noticed the racial slur on her receipt. Yes,
"ching chong" is a racial slur.
Ms. Lee's actual f$%king name was apparently too difficult to type in, so the employee took it upon themselves to use something more convenient.
According to the lawsuit, filed earlier this week in a federal court in Camden, NJ, the customer had placed a photo print order online, using her own name. But when she went to pick her order up at the store, her name had been changed to the aforementioned "Ching Chong," which her lawyer describes to 1010 WINS radio in NYC as "a very pejorative, racial slur meant for Asians. That is not her name."

When the woman took her issue to CVS customer relations, she was told the employee in the incident would be "counseled and trained."

"There's no amount, in my opinion, of training from CVS or any company that's going to stop this kind of hate and bullying against someone's race," the attorney tells 1010 WINS. "To me, this is something that deserves psychological counseling, not CVS counseling."

The suit seeks $1 million in damages.

More here:
Customer Sues CVS For Writing Her Name As "Ching Chong" On Receipt
.
I'm sure somebody thought they were being clever. That somebody needs to get fired. I don't know if you can put a monetary value on the kind of hurt and embarrassment caused by an incident like this -- $1 million is a lot of money. But a million dollars does send a message that is should be costly for businesses with employees who think it's okay to pull this shit.
And dammit, when is it going to stop? Between this,
"Ching" and "Chong"
at Chick Fil-A,
"Lady Chink Eyes"
at Papa John's, and a spate of other incidents like this, you think people would know better. Nope.
FACEBOOK