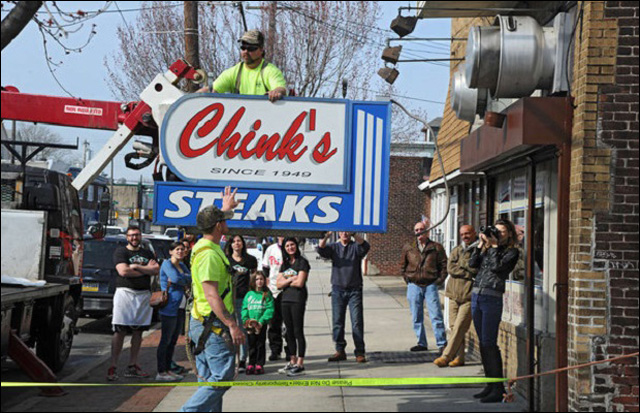 Damn. Some people have a hell of a hard time letting go of that old school racism... As we reported last week, Philadelphia eatery Chink's Steaks finally got around to
changing its name
, which was inspired by the original owner's racist childhood nickname. Now owned and operated by Joe Groh, who took over the business in 1997, the restaurant became Joe's Steaks & Soda Shop starting Monday, with a new logo and everything.
It only took six decades for Mr. Groh to admit that maaaaaaybe "Chink's" could be kind of sort of possibly associated with a racial slur. Thus, the name change. However, the decision is not sitting well among some folks in the neighborhood, who are indignant about the name change and yearn for a simpler time when they could freely utter a racial slur like nobody's business:
No offense: They prefer original Chink's
.
This article is downright hilarious. Here's my favorite part:
In the Northeast, many loyal customers said they understood the objections to the name, but believed it deserved a grandfathered pass.

Others, like William Ulrich, said the passing of "Chink's" symbolizes the neighborhood's decline.

"This place has a tan," said Ulrich a 51-year-old postal worker, who wore a wireless phone device in his ear and shorts that revealed a large cross "in the colors of the American flag," tattooed on his calf.

Over the last 15 years, crime has soared, he said, and blamed the African-Americans and Hispanics who have moved in, especially those in government-subsidized affordable housing.

"If you say anything, you're a racist, when you're just a realist," he said. "You're supposed to be politically correct? Try walking down Torresdale Avenue after 8 p.m. without getting robbed."

It would be wrong, though, to assume that the only opponents of the name change are white.

"The man it was named for passed away," said Terrell Jenkins, who is African American. "Out of respect for him, I don't think they should have changed it."

Jenkins, 44, blind from a bad drug reaction, is living on disability since his recent release from state prison after serving 15 years. If the shop had been named with a slur against blacks, "That would be offensive," he said. "But Chink was a nickname. It could have been a term of endearment."

I also like the part where the neighborhood woman sitting on the stoop says, "C'mon. Cracker Barrel hasn't had to change their name! I mean, that could be made into a racist thing." What's in a name? Like I said, some people really have a hard time letting go of that old school racism. Alas, you can still order
Chink's apparel
online, and they're reportedly selling like crazy. The perfect gift for the racist in your family!