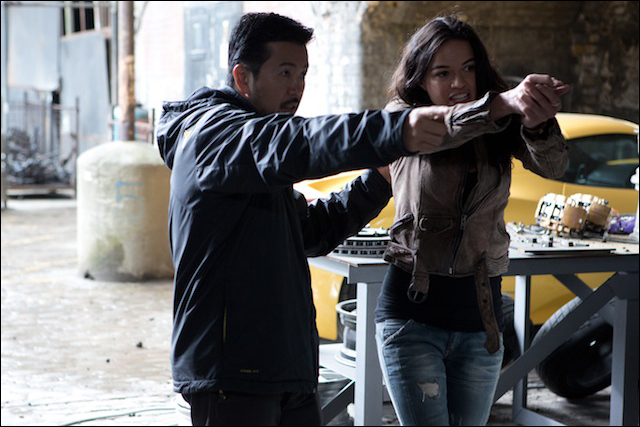 For fans of the
Fast & Furious
movie series... The good news is, Universal is already working on a
seventh
installment of the popular auto action franchise. The bad news: director Justin Lin, veteran of four
Fast
films, will not be sitting behind the driver's seat:
Justin Lin Won't Direct 'Fast & Furious 7.'
According to
The Hollywood Reporter
, Universal has the crazy idea of getting
Fast 7
ready for release in
summer 2014
. Justin, who is still hard at work getting
Fast & Furious 6
finished for its May 24 release, just can't get down with the studio's accelerated timetable, which would require him to get started
right now
:
Lin's exit from the franchise is not due to any clashes with the studio, where Lin has a first-look deal, or star Vin Diesel, but rather timing, according to insiders. Universal, which has fewer tentpole franchises than other major studios, has put Fast 7 on an aggressively accelerated timetable and wants the film ready for release in summer 2014.

Lin would have had to begin prepping for the movie while still working in postproduction on Fast 6. The filmmaker is said to have felt that the rush would not result in his best work.

One insider says that franchise exhaustion also was a factor. Lin has spent the better part of his directing career on the Fast series, after breaking out with 2002's Better Luck Tomorrow, the Sundance movie revolving around Asian-American high schoolers. He also directed the 2006 boxing drama Annapolis.

There was a moment where they were thinking about filming the sixth and seventh movies back-to-back, but that idea got scrapped. I'm sure somebody up top is wishing they had stuck with that plan.
To be honest, when Justin originally took on directing
The Fast and the Furious: Tokyo Drift
, I never would have thought he'd go on to make four of these crazy-ass movies. But I think he can be credited with helping to reinvigorate and turn this series around into the robust franchise it has become. Now it's going to be weird to see a
Fast
movie he didn't direct. The end of an era.
Then again, between the film adaptation of David Henry Hwang's
Chinglish
and the sci-fi thriller
Hibernation
, as well as other projects with his production company, Justin's got plenty on his plate. Now he'll actually have time to get to work on those. More here:
'Fast & Furious 7' Coming Too Fast For Director Justin Lin
.