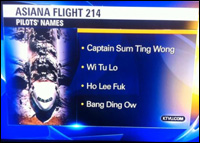 Catching up on some news that dropped while I was out... In case you hadn't heard, some folks did indeed get fired for the
racist name prank
that made it on the air in the wake of the Asiana Airlines crash earlier this month:
KTVU producers fired over Asiana pilots' fake names
.
Last week, KTVU confirmed that the station fired three veteran producers over the four fake names that should never have made it on the air. Investigative producer Roland DeWolk, special projects producer Cristina Gastelu and producer Brad Belstock were all given the boot after an in-house investigation into the matter.
Meanwhile, the station has been quietly trying to the get all the clips of the on-air gaffe pulled from YouTube, citing copyright infringement:
Two days ago, blogs began posting that Cox Communications, KTVU's parent company, had sent copyright infringement notices to YouTube - demanding that the offensive video of Campbell's newscast be removed.

In a statement that appeared on TVSpy.com, KTVU General Manager Tom Raponi said the move was made out of consideration for the Asian American community. "Consistent with our apology, we are carrying through with our responsibility to minimize the thoughtless repetition of the video by others," he said in the statement.

Raponi added, "Most people have seen it," and that "continuing to show the video is also insensitive and offensive, especially to the many in our Asian community."

It's still not clear
how
it happened. But you can connect the dots. The names apparently originated from a longtime, trusted source -- intended, I'm guessing, as an in-house joke. Somebody apparently didn't get the joke. Exacerbated by a
dumbass intern
at the NTSB, who erroneously confirmed the names, the joke eventually tumbled its way on to the broadcast... and into our hearts.
More here:
Source Close to KTVU Asiana Name Gaffe: 'Perfect Storm' of Unintended Consequences; In-House Joke That Somehow Aired; The Latest
.