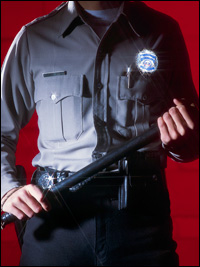 Some news from earlier this month... In Alabama, a Hyundai employee has filed a federal lawsuit against local police, claiming that officers beat and used a Taser on him while he was handcuffed during a traffic stop last fall:
South Korean man files excessive force lawsuit against Prattville police
.
Chang Ho Lee, who is from South Korea and works at the Hyundai Motor plant in Montgomery, filed an excessive force lawsuit against he city of Prattville and five police officers in U.S. District Court in Birmingham earlier this month.
According to the lawsuit, Lee was driving home on September 22 when he was pulled over by police for running a red light. Suspected of driving under the influence, he performed both a field sobriety test and a breathalyzer -- and passed. That's when he says officers cursed at him, took him to the ground, tased him, and struck him while he was in cuffs:
Officers can be heard telling Lee he is under arrest, the lawsuit states. He was not told what he was under arrest for, but, later, it turns out he was being arrested for public intoxication, according to the lawsuit.

Police take Lee to the ground and someone on the audio is heard saying "let's tase the mother (expletive)," according to the lawsuit.

"On the audio, there are officer commands for plaintiff to stop resisting arrest, but, an officer is on his back pinning his arms underneath him," according to the lawsuit. "This cannot be seen because the officers have either turned off the video or have pointed it into the dark."

The lawsuit claims officers continued to hit Lee multiple times and shock him after he was handcuffed. "Plaintiff was in such agony he though(t) he was going to die," according to the lawsuit.

Officers turn the video back on to the plaintiff, showing him lying on his stomach with his hands cuffed behind his back, according to the lawsuit. The officers call for an ambulance.

Lee was arrested and convicted of public intoxication. I guess that was the best charge the cops could come up with after they beat the crap out of him. He is now seeking compensatory damages from the city. More here:
S. Korean driver sues Prattville police over traffic stop
.