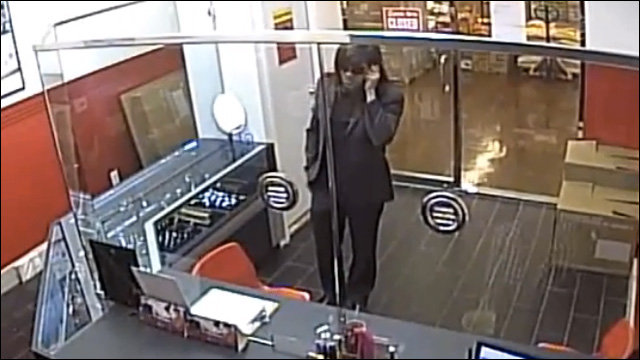 Asians behaving badly... Wig Bandit edition! In Southern California, police are on the lookout for a criminal they're calling the "Asian Wig Bandit," who is allegedly responsible for fifteen armed robberies at businesses across the region:
'Asian Wig Bandit,' who drives a BMW, prompts a $25,000 reward
.
The Los Angeles Police Department is offering a $25,000 reward for information leading to the arrest of the so-called "Asian Wig Bandit," who is indeed Asian, and earned his nickname because his apparent preference for committing robberies while wearing a blond or black shoulder-length wig.
The LAPD's Robbery-Homicide Division released
security video footage
of the Bandit in action, and are asking for the public's help:
Dressed as a female and wearing sunglasses, the bandit typically hits up businesses that handle money transfers to the Philippines. According to police, he brandishes a handgun, forces employees to drop to the floor, and demands jewelry and money. During one robbery, he allegedly used a Taser.

Since December, the Asian Wig Bandit has committed 11 robberies just in L.A. County, including eight in the city of Los Angeles. Police also believe the man has robbed businesses on two occasions each in Rancho Cucamonga in San Bernardino County and Chula Vista in San Diego County.

The suspect is described as an Asian male, age 25 to 30; 5 feet, 9 inches tall and weighing between 160 and 180 pounds. He drives a beige or light-colored BMW SUV, possibly an X5 model. Anyone with information is asked to contact the robbery homicide division at (213) 486-6840. Anonymous tips can be submitted by calling Crime Stoppers at (800) 222-TIPS (800-222-8477).
I gotta ask -- was it necessary for police to race-ify the suspect's nickname? If the man responsible for these robberies had been of another race, would authorities have dubbed him, say, the "Caucasian Wig Bandit"?