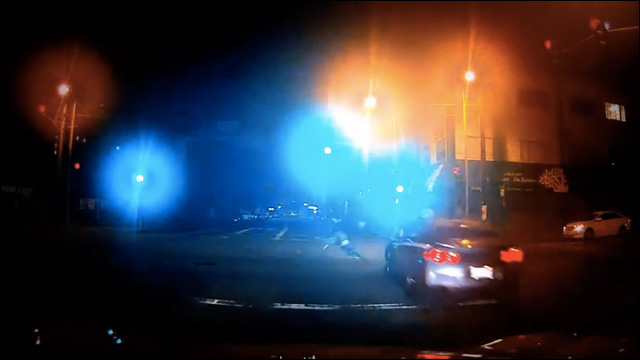 Have you seen this car? In Los Angeles, police are searching for the driver of a distinctive Nissan GT-R who is responsible for the hit-and-run death of an elderly bicycle rider in Koreatown earlier this year:
Distinctive Nissan GT-R Sought in Fatal Koreatown Hit-&-Run (VIDEO)
.
LAPD has released dash-cam
video footage
of the collision, shot from the next lane over, that killed 90-year-old Joo Yoon when he was hit by a dark gray or gun-metal Nissan GT-R while crossing a Koreatown intersection on April 27. The video shows the Nissan hitting Yoon, waiting for a moment on the next block, then driving off:
Yoon was taken to a nearby hospital, where he died a short time later.
The vehicle is described as a gun metal or dark grey newer model Nissan GT-R with a 3" white racing strip from the front fender to the tail light section. It will likely have damage to the front bumper area and hood. The suspect is described as a male Asian, mid-20s, black hair, brown eyes, 5'9" tall and weighing 180 pounds.
Anyone with information about the incident is urged to contact Detective Willmon at the Los Angeles Police Department's West Traffic Division at (213) 473-0222. Anyone wishing to remain anonymous should call Crime Stoppers at 1-800-222-TIPS (800-222-8477).
More here:
Koreatown hit-and-run dashcam video released; wife speaks out
.