Simon Cho will not be eligible to compete at the Sochi Olympics.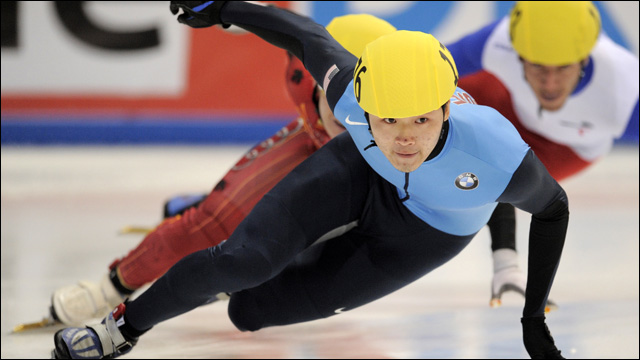 You did the crime. You must do the time. U.S. Olympic short track medalist Simon Cho has received a two-year suspension from the International Skating Union after admitting he tampered with the skates of a Canadian rival:
Simon Cho Suspended: Olympian Gets Two-Year Ban For Skate Tampering
.
Cho came clean last October, confessing that he
sabotaged
the skates of Canada's Olivier Jean during the 2011 World Team Championship in Warsaw, taking them out of the competition. Cho claims that he was acting under pressure from former short track national coach Jae Su Chun.
The two-year suspension, announced by U.S. Speedskating, runs through October 4, 2014, which will take Cho out of eligibility to compete for the American short track team at the Sochi Olympics.
After the retirement of Apolo Anton Ohno, Cho appeared to be one of the rising stars in the U.S. program. He won a relay bronze medal at the Vancouver Games and an individual world championship in 2011

Then came what he called the "biggest mistake of my life." Cho claimed the tampering occurred because Chun was angry at the Canadians and convinced they had aided another team to eliminate the Americans.

Cho said he was pressured by the coach to alter Jean's skate, using a blade bender normally used to ensure a skater's blade follows the proper radius in short track.

More here:
Speed Skate Cheat Gets Two-Year Suspension