Talking "Dead" with your favorite Asian American zombie apocalypse survivor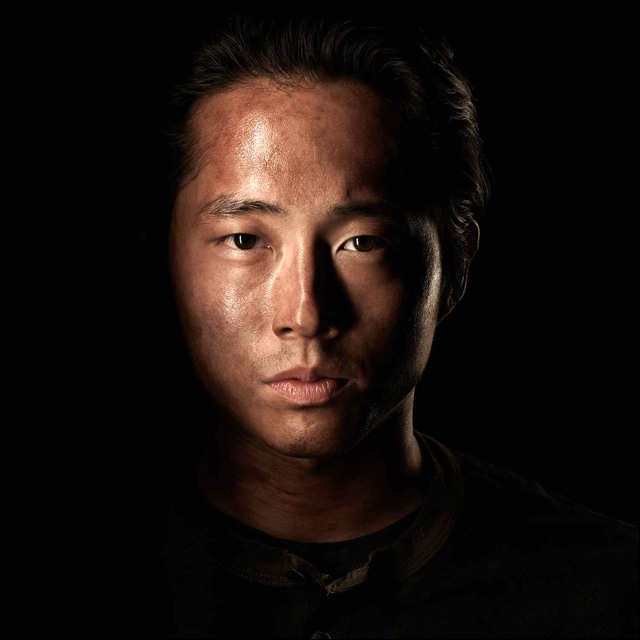 The walkers have spoken. The fourth season of
The Walking Dead
premiered last Sunday to a massive, record-breaking
20.2 million viewers
, making it the most watched nonsports broadcast in cable history.
With the big return of the hit AMC horror drama, I thought it would be good to revisit my
podcast conversation
with actor Steven Yeun, who plays your favorite Asian American zombie apocalypse survivor, recorded earlier this year. He talks about getting the gig, his responsibility as an Asian American actor, and love in the land of the undead. Here are some cuts from our conversation...
On landing the role of Glenn:
I had auditioned for an ABC pilot a month and a half before that, and I went to test. That was my first audition for a pilot, so I was like, 'holy crap.' I have a quote now, they have a contract they made me sign, and I'm going in front of the ABC execs. And I thought I booked it, because I walked out of there thinking I had crushed it. It was down between me and this other guy, and the other guy got it. I was so bummed.
Then
The Walking Dead
happened. And it wasn't this drawn-out process. The other ABC audition, I had like four or five times I had to go back. This one, the AMC audition for
The Walking Dead
, I went into to see [casting director] Sharon Bialy, she liked me, she called me back, she worked with me, and then I walked right in front of [executive producer] Frank Darabont in his office, and he put me on tape with his own camcorder. In front of nobody else -- it was just him, [producer] Denise Huth, and the two casting directors. I was like, this is so simple, instead of a wall of people in suits, [which was] terrifying.
On his crazy welcome-to-Hollywood moment:
I think every time we open up script, we're just like, holy shit, this is crazy. My welcome-to-Hollywood moment on the show was first season, second episode, when we were covered in guts. There's rain machines, two hundred extras -- all in full zombie makeup -- and a camera crane. There's a camera mounted on a car in front of us, and we're running down as they call action, and I was like, "Man, look at the shit I'm doing. This is awesome." The show in that regard is so fun. We'll catch ourselves in between takes being like, "Whoa. Shit! Dude, that looks sweet!"
On being one of television's most significant Asian American characters:
It's been great to be able to play a character that doesn't really have anything to do with being Asian except what he looks like. I also love the fact that they don't shy away from addressing that as well. Because to ignore the fact that I am Asian on the show would also be equally as odd. So I love that they make the jokes when they can, but then they completely wash them away by letting the character be his own thing. I mean, how lucky am I to be able to do that? So I feel very fortunate.
On his onscreen romance (and sex scenes) with Lauren Cohan, aka Maggie:
It's fantastic, and it's awesome that it gets to be with Lauren [Cohan]. She's so great. I take pride in that situation, not necessarily being the Asian guy that got the white girl on TV, but that Lauren and I really strived to make this as realistic as possible, and really fill it with a lot of chemistry -- even down to the sex scene that we did in the third season. I remember, Lauren and I would talk right before the scene, and she's so talented. It was like, "Let's just go for it." And also part me was like, there's no way I'm going to look like an ass on this. I'm going for it. Essentially, we said let's just basically have as close as sex as we can so that it'll show and that passion is there. I love that scene. I wanted to make sure that it wasn't exotic, that it wasn't some nerd dude winning. It was just two people, who happen to look a little different, passionately being together.
On The Walking Dead's enormous popularity:
I definitely did not know that it was going to become this -- I was just happy to have a job. Then the show just got the numbers back, and it was pretty insane. But you know what's strange is that there's the way about our show, the way that people work and carry themselves on the show, that I don't think we've fully grasped how successful the show particularly is. Nobody's like rolling up to set in Lambos, and we're not private VIP jetting everywhere. I'm pretty much living the same exact life that I was before. It just happens to be now that I get recognized on the street.
The Walking Dead airs Sunday nights on AMC. Listen to my full conversation with Steven Yeun here.